Pakistani Apparel and Fashion
 Trendy &  Traditional 

Pakistani Apparel -Casual, Formal and Bridal
Pakistani apparel ranges from traditional styles to modern to fusion with cuts and styles of all types in fabric of all kinds - trendy, traditional, casual, formal and bridal wear - is a woman's delight!! both in buying and wearing and as much in making.
This is the most favorite business line for the women of Pakistan. Work starts at home with designing styles, buying fabric, getting it embroidered, matching and mixing, getting it stitched and then... off to the exhibition!!!
It can be at home, at a local hotel or at a trade fair locally or abroad....it sells...it sells BIG! The margins are steep and there is no end to the demand with the cultural emphasis on weddings and trousseaux.
What a delight it is to see the different kinds of outfits on display at these events!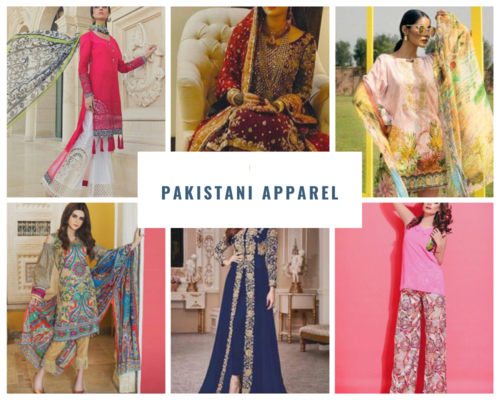 Different Styles of Pakistani Apparel for Different People
These are all 'designer creations' with exquisite motifs and fabulous fabrics giving it the signature style of Pakistani apparel.
The several types of apparel made by women are stylish trendy lines and traditional day wear, casuals as well as formal party wear and the epitome of style and design...the bridal dress!!
A bridal dress can cost anywhere from a US$ 1,000 to 50,000 or more, depending on the economic status of the family.
Keep visiting, these pages are going to be the gala showcases for our members expertise and more...
Add your designs too...

Pakistani Apparel-Bridalwear & Casual lawn
We will be adding the following categories with pictures of more Pakistani apparel:
Bridal Dress and Trousseau Collection - For Traditional Lines visit here and on  Banarsi, Sarees, Suits, Silk; Also find formal and Party wear on these pages.
Lawn Prints, Cotton Clothes, Summer Wear  - See Trendy Styles here

Add your favorite styles too! Go to our 'Share' segment and build your own page.
A great resource for learning "How to open a Successful Boutique"? by Everlin Wang … Click here!
It takes you through the steps that the author followed ... Everlin Wong asks the following questions to put you on the right path to Success
If you're SERIOUS about Opening a Boutique, here are some of the questions that you might encounter:
How to open a boutique business with minimal capital and yet make lucrative profit?
What do I need to get started?
Where do I get funding to open my boutique business?
What should I name my boutique store?
How to find the right name suitable for my clothing boutique?
What do I sell in my clothing boutique?
Which category of item should I focus on?
Which location do I open my dream boutique?
How do I get in touch with the vendors of the clothing lines I want?
How to write my boutique business plan?
What is my start up cost and capital required to open my boutique?
What is the general step by step plan in opening a boutique?
Where should I focus my time initially as there is so many aspects to manage?
What needs to be locked in first, second, etc in order to get the boutique up and running?
What is the target market my boutique is catering for?
Do I just buy stuff from other company's and sell them at my store?
Where do I buy clothes from when opening a boutique?
Do I make a good amount of money from boutique business?
Apparel and Fashion Products, Services, Businesses, and Profiles
Click below to see what visitors have shared...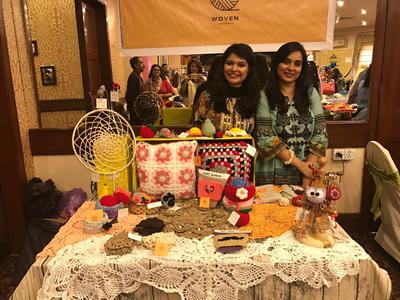 Woven-Knitwear and Crochet Products 
Woven - knitwear and crochet products offers a variety of knitted and crocheted apparel, accessories and home decor products for all ages from Pakistan.
Apparel