Rabiha Amersy
by Zainab Nasir
(Karachi)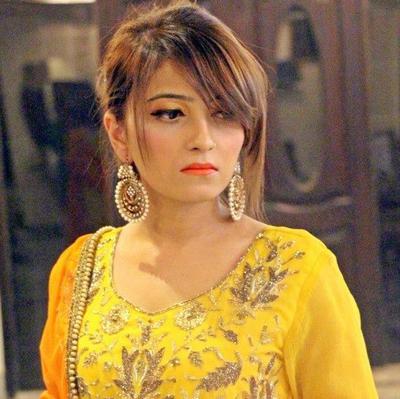 Rabiha Amersy - Fashion Designer & Marketer

Your city: Karachi

What drives you?(What makes you so passionate about your work)

Since I was a child I had a dream of becoming an entrepreneur and always wanted to start a business on my own. I have seen my father running his own business and I believe that my vision and inspiration came to me by observing him working hard relentlessly day and night. The thought that I could utilize my skills in a way that could bring a smile on people's face is what makes me even more passionate about my work. I feel happy when I see my clients wearing my designs and it is like a cherry on top when they share the compliments that they have received because of my work. The inner satisfaction that I get cannot be put into words!

How did you get here and how long have you been in this profession (or been doing what you do)?

I am a student of Institute of Business Management (IoBM) and I am currently doing my MBA in Marketing. Earlier, I had no idea that I would be choosing fashion as my field of profession. I was motivated to enter this field because of my sister, Fizza Amersy who is a student of Asian Institute of Fashion and Design (AIFD). We both decided to come up with a clothing line offering eastern and western prêt wear and combining our skills of fashion and marketing to develop our brand. We also had the support of our eldest sister, Ilham Amersy which made us a team of three people who were looking after different aspects of the brand. We started off two years ago from an online store on Facebook and expanded it through exhibitions in multibrand stores and by the grace of Almighty Allah, we now have our own studio. We would not have been here if it wasn't for our mother's prayers and support, she was there for us at every turn to guide us. I still cannot forget the proud smile on her face when she saw girls wearing clothes from Rabiha Amersy for the first time. That image itself was quite motivating and it makes us want to make her even more proud!

What has been your vision and what do you most love about your work?

My vision is to create a global brand that has reach not only all over Pakistan, but also internationally. Furthermore, I want to provide opportunities for creative and enthusiastic individuals out there who can contribute to our brand in any way. Therefore, I would like to see my brand prosper in the next few years and be available worldwide through physical outlets. This vision motivates me to work harder each day to reach my ultimate goal. I am happy about the fact that everyone out there loves our work and their appreciation and feedback means the world to us.
What do you think is your biggest achievement throughout your professional journey?
I believe the biggest achievement throughout my professional journey so far is launching my own studio in Karachi. It is currently a home based studio and that has made work more convenient for me and my sisters. We can easily work from home which helps us to provide a balance between work and family.

What are your current projects and what do you plan on doing in the near future?

Currently, we are working on expanding our business and will be launching a website soon. There is another CSR project that my sister Fizza is working on through our brand whose main aim is to promote women entrepreneurs in Pakistan. She has created a Facebook group by the name of Women Entrepreneurs which has around 2000 members. It is a platform through which talented women are promoted and motivating stories are shared to help and inspire women in Pakistan. In the near future, I plan to expand my brand through our upcoming website and also through stores all across Pakistan.

A word of advice you would like to pass on to other women struggling with their start-ups?

I would like to advise them to follow their dreams. Everyone should do what they believe they are best at. There would be a lot of struggle, and one has to face many challenges to make things work out, but in the end it will totally be worth it!