Designer Furniture 


Designer Furniture - for Cozy Corners
Designer Furniture converts any house into a home. With cozy corners giving a warm and welcome feeling to anyone visiting such a home. Furniture is the basic accessory for any house. These days the trend is for minimalist decor, rather than filling up each nook and cranny of the house with some sort of furniture, it is preferred to have few pieces that are exquisitely designed by a designer who keeps all aspects of a certain room in mind and develops a wholesome space with just the basics.
Designer Furniture - Types
There are several types and qualities of furniture that can adorn the various parts of the house depending upon the requirement. Mostly furniture is of the following few types:
Wooden Furniture - For Bedrooms, Living Areas and Dining Rooms
Cane Furniture - For Decks, Patios and Gardens
Wrought Iron Furniture - For Bedrooms, Gardens, Decks and Patios
Plastic Furniture - For Gardens, Activity Rooms and even Bathrooms
Designer Furniture in Solid Wood
One of the best quality of solid wood furniture in Pakistan is designed and manufactured by a lady. Her expertise in the field and the passion with which she does her product development, are truly inspirational!
The styles category varies from residential to office. Then again in each category there are traditional and conventional designs.
Designer Furniture by Samina Khan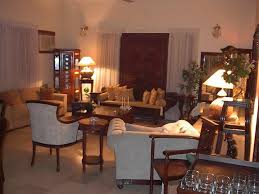 Designer Furniture by Samina Khan-Drawing Room
Designer Furniture by Samina Khan-Mirror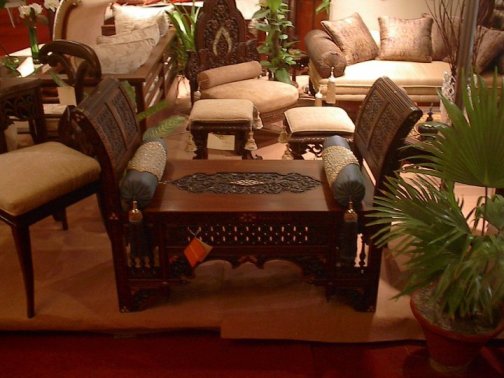 Designer Furniture by Samina Khan-Display at an Exhibition

Traditional and Trendy
The traditional designs are a beautiful blend of local and European styles giving it a unique fusion style. Some of the wood inlay coffee tables can shame any Italian designs!

The best part is that when you have your furniture designed by a woman entrepreneur, she goes the extra mile to provide interior designing advice and color co-ordination with the rest of the decor of that particular space in the house.
They usually draw complete site plans of the rooms to be developed with dimensions and colors to be used, discuss with the clients on their preferences and bring out the best styles that please the customer and give a whole new look to the room.
The best part is that these pieces are built to last a life time if made in pure solid wood...a rarity now.
Again in office category, there can be the traditional styles and the new age trendy lines, depending on the choice of the customer. The whole office can be developed by the manufacturer to give it the well co-ordinated feel of interior designing.

Here you see a heavy solid wood mirror with carved border and a close up of the border:

Wrought Iron Furniture
Furniture made from wrought iron is both decorative - with it's ornamental designs - as well as long lasting. In areas close to the sea wrought iron is used for furniture as well as railings and grills as it does not rust easily.

These designs are less bulky than the wooden furniture and look classy anywhere - be it the bedroom, patio or the garden. Patio table and chair set look very nice with beveled glass or marble tops.
Women entrepreneurs develop stylish designs to go with the mood and decor of the house. One of the ladies designs inlaid marble on marble for table tops, with exquisite original designs.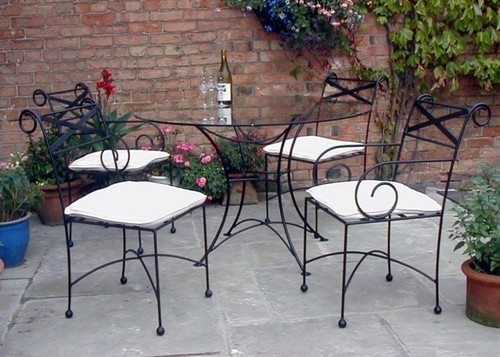 Wrought Iron Light Garden Chairs & Table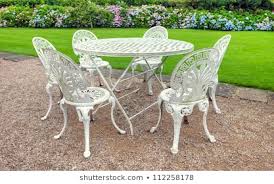 Wrought Iron Garden Chairs & Table Set
Wrought Iron Modern Bed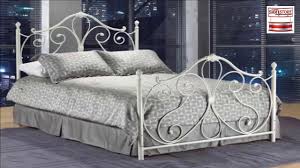 Wrought Iron Bed
Cane Furniture
One of the most favored and stylishly simple furniture is called cane furniture. Made from the bark of bamboo and from rattan tree bark, this furniture is both inexpensive and durable. it is very easy to move this type of furniture and can be added to the decor of a patio, lounge, deck or garden with ease. Cane furniture can be painted in any color to give a bright and lively look. Mostly painted in brown or white, it adds elegance and an old-world charm to any area.
Cane Furniture - Deck Chairs and Table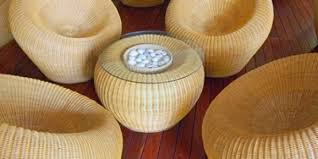 Cane Furniture - Chairs and Table
Cane Furniture -Assorted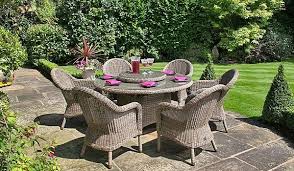 Cane Furniture - Garden set
Plastic Furniture
A very functional option is to have plastic garden and patio furniture. It is light in weight and easily washable. Mostly inexpensive though some brands are quite costly but much less than wood, wrought iron or cane.Simple designs and comfortable styles make plastic furniture quite a favorite for everybody. It  can be placed outdoors without a worry of spoiling in the sunshine or even if it rains. Better quality ones are used near swimming pools also as lounge chairs.
In schools and other activity areas, plastic furniture is the best choice for any occasion.
Plastic Garden Table Set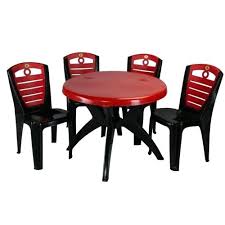 Plastic Dining Table Set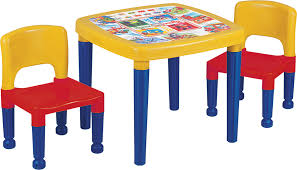 Plastic Table and Chairs Set for Schools

Plastic Chair
Designer Furniture