Fine Jewelry 
Gold, Silver & Gems
Jewelry, in Pakistan, has a very important role in the lives of all females. Ornate styles and heavy designs made in 22 carat gold are a must for adorning the bride at weddings.
Designing ornaments is one of the most favorite trades of women entrepreneurs.
Quite a bit of pieces are handed from generation to generation in the traditional households. The exquisite old designs still inspire many to reproduce these in the new styles.
Gems
Gems like emeralds, rubies, sapphire and topaz are found in abundance in the Northern Areas of Pakistan. Lovely strings of gems are not only exquisite to look at but add a lot of grandeur to even the simplest of outfits.
Very elegant, strings of jewels can be made in single or multiple rows - all have their own unique charm. Women entrepreneurs from these areas manufacture high quality beautiful designs.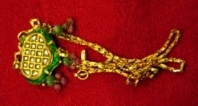 The pendant here is also an antique piece with uncut pieces of diamond, known as 'polki', an art from the Moghul period. Emeralds and rubies hang as small beads.
This style is being reproduced in new designs also, however, the old style still remains very popular and sought after.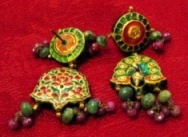 Women design these items from traditional patterns and add the new look to make it a more trendier version.
In the picture here is an original antique pair of earrings. Each side has a different pattern. This kind of pattern is known as 'meenakari'. These are from the ancient Moghul period.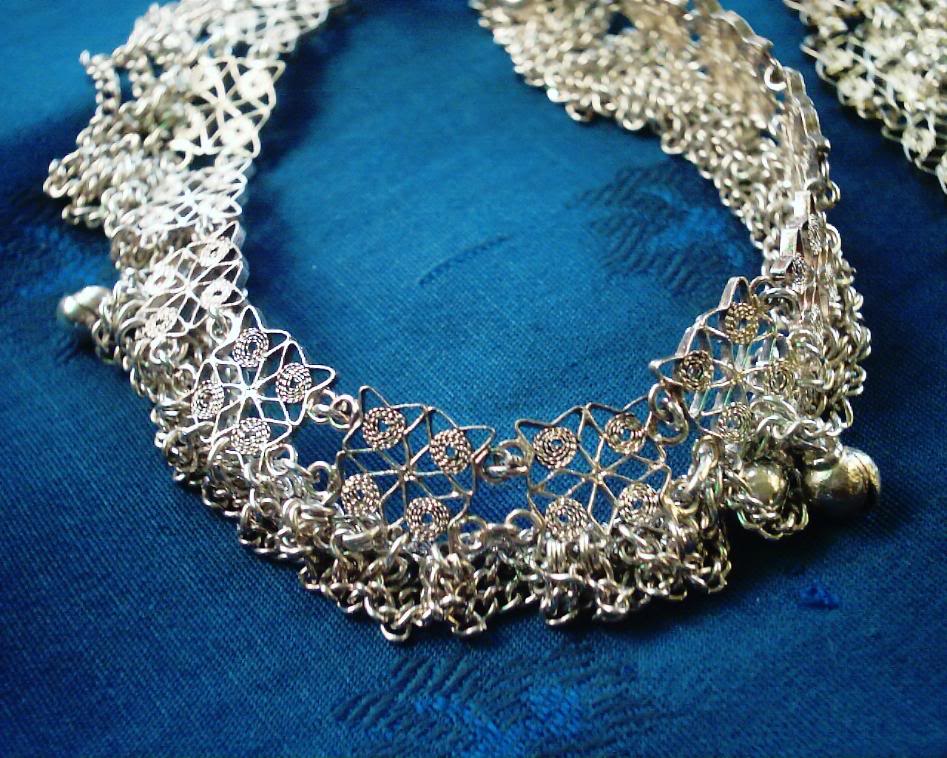 Silver
Silver ornaments are also very popular specially for pieces like anklets (payals) as gold is not supposed to be worn on feet in our culture. Similarly, gold and silver buttons for kurtis are also very popular and added as a fashion accessory.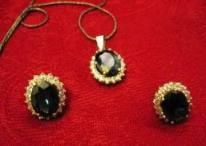 Trendy Styles
This sapphire set here is more in the trendy and new style. It has small diamonds studded all around the oval sapphire which is embedded in the middle with beautiful cuts.
The style is popular and is made with emeralds and diamonds and for more affordable ranges in zircon and sapphires studded on white gold or silver.

Pakistani Jewelry - Products, Services, Businesses, and Profiles
Click below to see what visitors have shared...


Floral Jewelry by Muniba Saud Not rated yet
Grand Wardrobe is a venture that offers floral jewelry inspired from real flowers, handmade with imported high quality material. Venture: Grand Wardrobe …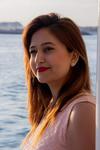 Maria Marvi of MJ Shops Not rated yet
Maria Marvi of MJ Shops Your city: Karachi What drives you? (What makes you so passionate about your work) ? The recognition and love from my customers …

The Trendy Trinkets by Rekha Not rated yet
Your city: Karachi What drives you?(What makes you so passionate about your work) Like every young male/female, I always wanted to do something on …
Pakistani Jewelry