Services Industry  


Services Industry - Women Consultants and Professionals
Strengthening the Services industry is the second most important growth engine for any economy. To consolidate resources effectively it is essential that entrepreneurship is strengthened with the expertise of consultants in various disciplines.

Women in this segment manage their firms on an equal footing with those of their male counter-parts. Consultancy practices have been the most favored fields for women, as they can work as per their convenience ... well that's what is thought ... in reality it takes a lot more than the 9-5 hours!!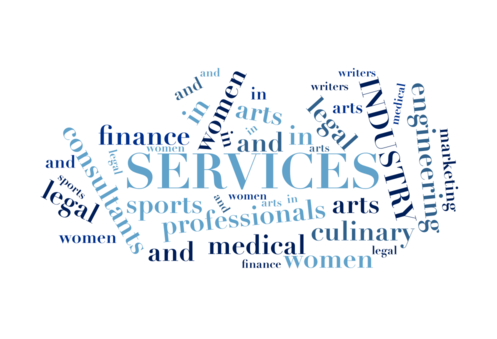 Services Industry - Professions Under Each Field
The following fields encapsulate the major areas of expertise that women engage in as independent practitioners with their own firms. Each field branches off further into specialization areas (click on the links below):

Click on the links above for a deeper look into these practice groups.

Services Industry - how to go about
The specialization areas cover several branches within each profession.

There are no special treatments for the consultants, rather they have to strive harder to gain clientele. However, once they have established their practice in their niche and proven their worth on merit, the clientele does not move to other practitioners in the field.
The establishing of practices in the earlier years requires dedication and hard work, just like any other professional. Check the Setting Up a Consultancy Practice page to have an idea.

Services Industry - Networking amongst Practice Groups
There always remains a need for networking and expanding the practice.
A particularly untapped resource for consultants is the women entrepreneurs area. To create sound businesses, it is essential that the entrepreneurs engage the services of professionals, however, it has been seen that these segments work in isolation and hence effective synergies are not formed.
At MizLink-Pakistan, our endeavor is to create these linkages and provide win-win solutions for all concerned.
A good network which can be reached from the link for professionals to promote themselves is LinkedIn. It is a very good idea to post your profile or services firm on LinkedIn.
Services Industry - Make Your Own Page
The best way to network and inform about what you do is to make your own page on this website i.e. on MizLink Pakistan. You can write about yourself, about someone else's profile or share your thoughts about any profession or services industry or any idea that you think should be shared. The best thing is that you can add your page on the website yourself. Use the following links to make your own page:
---
Services Industry