Raising Finance 
Raising Finance - Debt or Equity
Raising finance for business always remains a daunting task for most of the businesses. For women owned businesses the issue becomes even more difficult as most of them are not aware of how to get financing and to have financial management to manage the same and also because the collateral required to secure loans is usually not in the name of the entrepreneur concerned.
Here we have used the word 'business' but covers both entrepreneurs and professionals as both require funding at one point or the other.

Raising Finance - Needs Assessment
Before deciding on a mode of financing it is important to assess the true needs of your business.  A word of caution ... Do not raise finance that is less than what you need and more important ... more than what you need.
Other than financing options or raising loans from the banks we will also have a look at money that can be raised without going to the banks.
On these pages we will be talking about money to be raised for business or professional services firms i.e. money to be used for productive asset building as in corporate or SME finance as against consumer finance which mainly relates to credit cards and personal loans etc. and are not used for income generating purposes but just for spending. using this type of finance i.e. consumer, in your business is a very costly option and should be avoided.

Raising Finance - when to raise finance
There are specific times when you should raise funds and from which suitable sources. For example if you are at the initial idea stage, you do not require large amounts. What you need is barely some savings. Once you have decided on a certain product, review the 'Product Development' segment and finalize your initial concept to develop a prototype of your product.
After you have prepared your prototype, decide to go into a small trial run based on the optimal minimum quantity. For this again you do not require large amounts you can manage with a small saving or with borrowed funds from friends or family.
Once your trial run takes off and the market accepts your product then plan on your larger preferably order-based quantity. You would need some financing for raw material, labour and if you are manufacturing, then you require financing for equipment. Start with a small number of equipment for which you can raise money through 'Lease Finance'. In that way you won't require additional equity.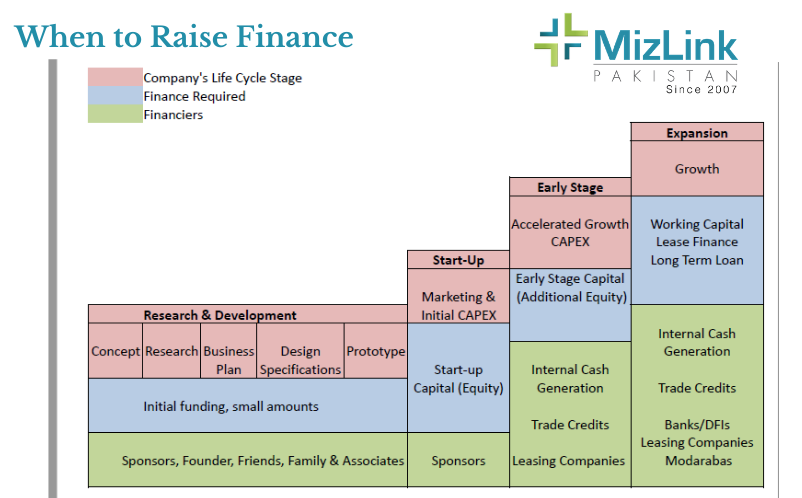 If you have to raise a short term loan i.e. for one year, then try for the State Bank of Pakistan's (SBP) subsidized refinance lines. details of which can be reviewed on the SBP website on the following link - Refinance Scheme for Working Capital Financing of Small Enterprises and Low-End Medium Enterprises. 
State Bank of Pakistan has also introduced a dedicated financing scheme foe women entrepreneurs that also has a Credit Guarantee enhancement upto 60% to help women owned businesses avail credit on soft terms and with insufficient collateral/security against financing. Banks and DFIs can extend upto PKR 5.0 million for a tenure of 5 years at the rate of 5% per annum and 60% Credit Guarantee. This is almost like participating in a Committee! Check the details on the following link on the SBP website - Refinance and Credit Guarantee Scheme for Women Entrepreneurs.
There are many other subsidized schemes for the entire SME sector in which the segment of women entrepreneurs is also covered. To check the various SME Schemes visit the following link to the SBP website - Incentive Schemes for SMEs and Other Sectors.
Let's have a look at the various types of financing that are available to fund your business. Let's understand the different types of financing, how to raise finance and the finance process following these links below...

Raising Finance

›