Pashmina Shawls
Stoles and products
Pure hand made pashmina shawls and stoles and other products are in a variety of types vis-a-vis plain solid colors, woven with silk and embroidered with motifs. Pashmina is a fine spun fabric from animal hair found in the Northern Areas of Pakistan.
Plain, Woven or Embroidered
Pashmina Shawls

Pashmina Shawls
Shawls, as  favorite pashmina products,  are traditional wraps that originate from the Northern Areas of Pakistan, as well as from Nepal. Colorful, classy and a must for any wardrobe. In the North, these are exquisitely embroidered with unique patterns.

Shawls are made as wraps, stoles and scarves. Added as fashion accessories, can be worn with traditional Pakistani wear as well as western dresses - adding charm and style to any outfit. These luxurious shawls provide warmth despite their light weight and sleek look. 
Pashmina Stoles, Wraps and Scarves
In pure and in silk blends these are ideal for smart western outfits. In solid and rich colors, as well as pastel shades, these add elegance to any dress or suit. 
For the light winter season, stoles and scarves are a lovely addition to any ensemble. For cooler winter seasons, beautiful plain in solid colours or with hand embroidered motifs adds warmth and a dressy and chic look to any outfit.
Pashmina scarves are a practical yet chic way of covering the head to ward off cold air and can be worn along with caps, around the neck, the shoulders and as a haed sacrf too.
Pashmina Shawls - Woven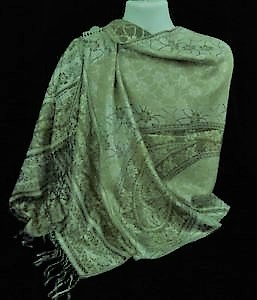 Pashmina Shawls - Woven
The woven types are very stylish to add a dash of patterns on plain ensembles. The patterns cover the entire length of the shawl or stole, in rich or pastel combination. The patterns can be worn on both sides in different color tones. These are made like the Banarsi fabric on looms but with woolen and silk fiber. The quality of fabric is very fine and soft to touch.
Pashmina Shawls and Stoles - Embroidered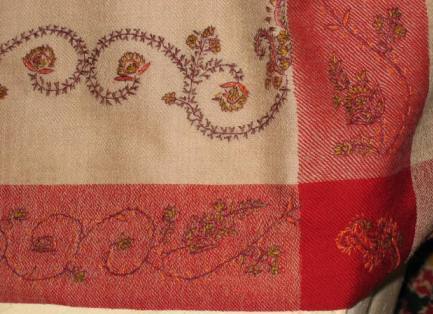 The most popular patterns are with the classic Kashmiri embroidery - floral and paisley designs and on solid colors. These patterns are also run along the borders. Hand made with intricate designs, these were considered the luxury fashion accessory for the nobility.

The most elegant and light yet very warm is the Shahtoosh (Shah Tosh or the fabric/garment/covering of royalty) shawl. These shawls are beautiful and warm as a plain woven piece or as exquisitely embroidered master pieces. These are very expensive and rare to find. Made from the hair of the Chiru (Tibetan Antelope); this art work had to be banned to save guard the dwindling and endangered specie.

Pashmina Stoles

Pashmina Scarves

Pashmina Shawls
Pashmina Shawls - Kalamkaar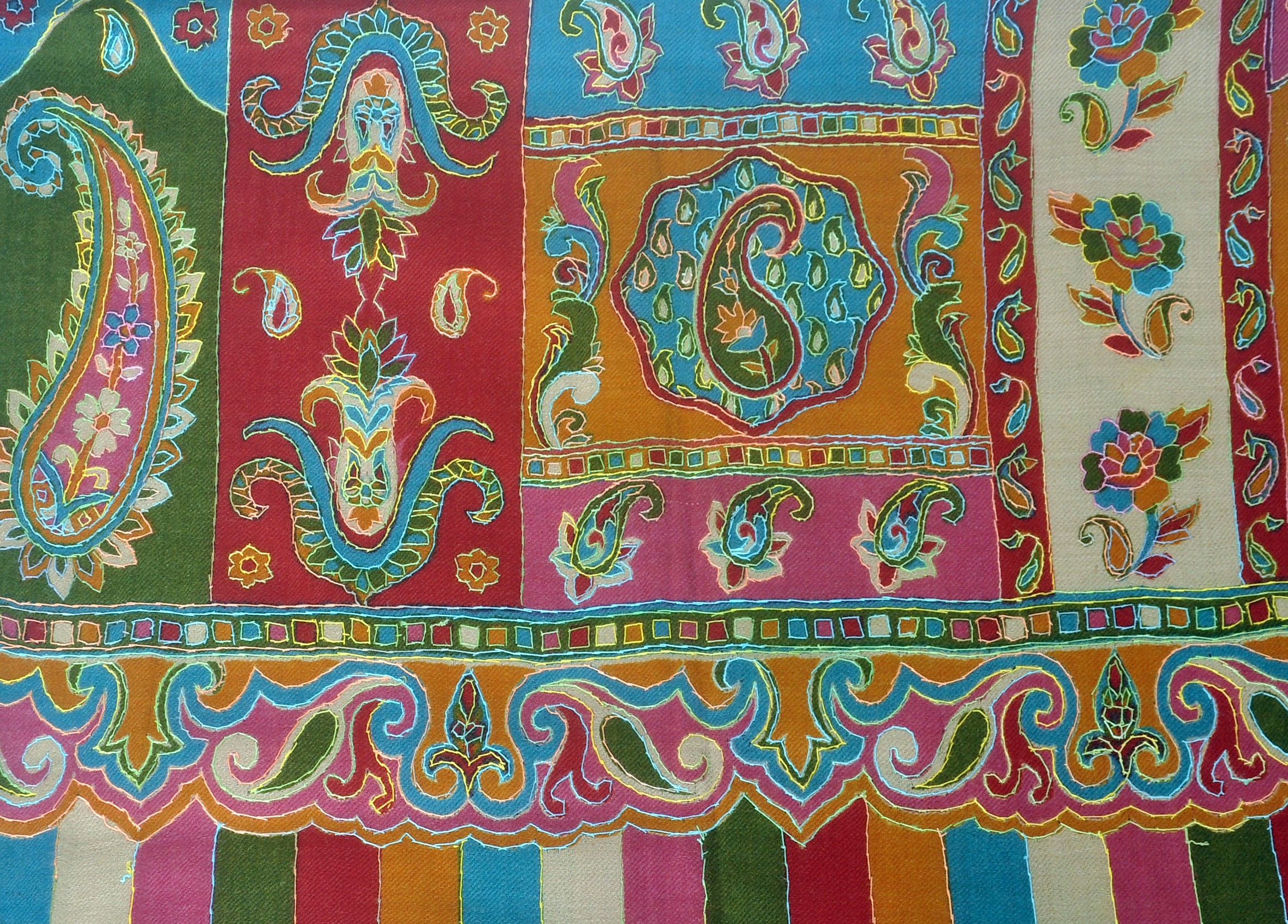 Pashmina shawls and stoles come in various beautiful colours both plain and with embroidered motifs. 
There are fully embroidered ones, with floral and paisley patterns. Multicolored patchwork pashmina shawl with full embroidery called Kalamkaar is a unique ethnic piece. Pieces of pure pashmina are joined in different colors and patterns and motifs are embroidered on the edges of the patchwork and in the middle as well. These are exquisitely designed and very high priced pure pashmina products.
Pashmina Shawls