Exhibitions and Tradeshows
Products for an Exhibition and Tradeshow

For exhibitions and tradeshows, the entrepreneurs and professionals desirous of promoting their products and services, need to have sufficient knowledge of the target market presentation skills, expectations of visitors to the event and the negotiation skills required to close the sale.
Most of these skills have to be developed through the trial and error method - a costly proposition - as there are no institutions available to provide this kind of knowledge. As our network comprises of the experts in each field, this aspect is well taken care of. Our experience has shown that with proper guidance the presentation skills are improved and results at events are substantially better.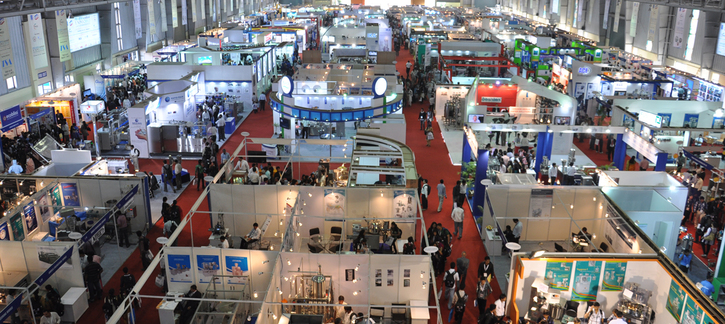 Exhibition Halls
Preparing for Exhibitions and Tradeshows
When participating in such events ie exhibitions and tradeshows, give yourself 3-6 months to prepare. Get your product thoroughly checked out even if it is very simple. Do your home work on your product, the market you are offering it to, the local buyers in that market.
Prepare presentation material - in draft form - well in advance so that you can review before time, keep the finalization to the end. Add any and all new products/features/terms and conditions, etc. for the final version.
Have these ready early on so that any editorial or content amendments can be done in time. Many entrepreneurs make the mistake of putting off marketing material development till the end....not at all a bright idea.
Make a checklist of things to do. Do not make a decision to participate without sufficient preparation and time, as this increases the chances of failure. Remember, it costs to participate even in a subsidized event and don't forget to put a price to the time and effort required for participation.
Have a sufficient quantity of samples ready. Make a presentation board of all your product range as a storyboard. This will save on cost of developing too many samples.
Prepare for local events as if these are international, that will help you to develop the required skills and find out the pitfalls and problems that one has to face. It is easier to handle these locally, while you get tremendous hands-on training for international events.
Other events to follow and participate in for networking, learning and promotion of your business & profession are given in the links below.
Exhibitions and Trade Shows-Organized by TDAP
The Trade Development Authority of Pakistan (TDAP) earlier known as Export Promotion Bureau of Pakistan (EPB) organizes women focused events by the name of WEXNET on a yearly basis in the major cities of Pakistan. The events are managed through professional event managers however promotion of the event remains the responsibility of the exhibitors and other partnering participants. 
Exhibitions

›