Women Writers
Pakistan has produced many globally, highly acclaimed women writers. from playwrights, screenwriters, novelists, literary, fictional and non-fictional writers to journalists and poets, there is a host of professional writers that have dominated a large space in the area of writing in various languages including Urdu and English. 
Noteworthy names are in astounding numbers and we will try to dedicate pages in their accolade separately as well, nevertheless, to name a few these are and some no longer with us such as Fatima Surriya (Bajiya), Hasina Moin, Razia Butt, Bapsi Sidhwa, Zeenat Abdullah, Noor-ul Huda Shah, Umera Ahmed, Fatima Bhutto and the young and blessed Nobel Prize winner Ms. Malala Yousufzai.
Women Writers - Novelists, Playwrights, Screenwriters, Poets and Journalists
Noteworthy names are in astounding numbers and we will try to dedicate pages in their accolade separately as well, nevertheless, to name a few these are and some no longer with us such as Fatima Surriya (Bajiya), Hasina Moin, Razia Butt, Bapsi Sidhwa, Zeenat Abdullah, Noor-ul Huda Shah, Umera Ahmed, Parveen Shakir, Khadija Mastoor, Kamila Shamsie, Fatima Bhutto and the young Nobel prize winner Ms. Malala Yousufzai.
These iconic writers have written screenplays, poetry, worker on portrayal of women in a positive light while highlighting various issues that women face in their day to day lives. They have written biographies, auto-biographies, fiction and non-fiction, short stories and novels and have made their mark in the literary world locally and globally. 
Dr. Munazzah Yousuf has written a book on Pakistani Women Writers (1947-2017). It was published by Pakistan Academy of Letters in 2018. "It serves as a useful introduction and guide to women authors over the past 70 years who have created, in both Urdu and English."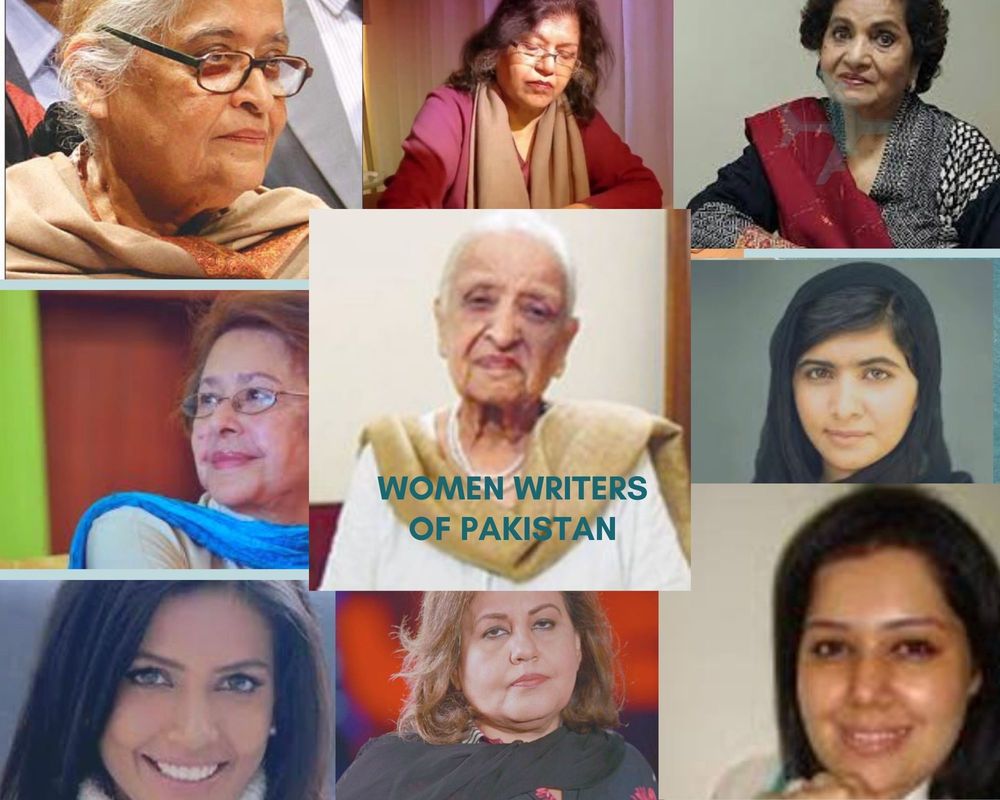 Women Writers - Work at Home Moms (WAHMs)
Women writers, who are a number of times Work-At-Home Moms (WAHMs) Writers - avail a great opportunity in this world of web based connectivity for women who wish to work from home giving them an opportunity to write content for websites that pay for them. Work at Home Moms (WAHMs) as they are globally called, are reckoned as a powerful and valuable resource. Writing from home has several benefits including enjoying your passion to write, earn good money if you get the hang of it and also a great way to vent! If you've decided that working as a WAHM writer is the best work at home job opportunity for you, then you'll need to figure out how to get writing assignments. Fortunately, when you work as a web writer there is no shortage of job opportunities. It all depends on where you look and how much research you are willing to do.

Women Writers - Web Content Writers
Web writing can be broken down into several different categories. Before you begin looking for work, you'll have to decide whether or not you want to get credit for your writing. If you insist on byline, you may have difficulty finding a lot of paying jobs. Byline jobs are out there if you look. However, the most money to be made is from working as a web ghostwriter.
Many women writers find success with ghostwriting. When you work as a freelance ghostwriter you provide writing services for clients who will then use the work as their own. Ghostwriting as a woman writer is a lucrative opportunity, especially when you focus on web writing. For the most part, the Internet is a text and image based platform. Companies and individuals who run websites constantly need text to make their websites attractive to visitors. Since writing is something that a lot of people would rather not do, this leaves plenty of opportunities for people who love to write.
Web writing WAHMs need only an Internet connection, e-mail address and word processing program to get started. Your own website is not necessary, but it adds a touch of professionalism to your writing business. However, when you are first starting out you can get plenty of work without having a website.
There are several different categories of web writing. When you see the term "content writing" you will normally be providing text for an existing or new website. Your writing will have to be engaging and clear for website visitors. Article writers concentrate on providing articles for websites, newsletters and blogs. Generally, articles for the web are between 400 and 800 words each. Any more than that is difficult for readers to sit through while looking at a computer screen. Copywriters are challenged with putting readers in the mood to buy. They write copy for Internet sales letters and marketing sites. Ebook ghostwriters provide clients with full-length books on a variety of topics.
WAHMs who write need to be professional in their online presence. This means spell-checking all writing, including e-mails to clients. It is also a good idea to get an e-mail address that is specifically used for your writing. A personal e-mail address with a goofy handle will make you appear unprofessional. Your first and last name or a combination thereof is a good choice for your web writing e-mail address.
Writing for the Internet has a few differences from writing essays in school or writing for print magazines. Readers online have short attention spans, and you'll need to keep your sentences short and your paragraphs clear.
The other difference is the use of "keywords" in certain writing assignments. Keywords are words that have been selected by your client to be used in the article. These words have been selected because they are Internet search terms and your client wants their website to show up for those search terms. Keyword articles will require you to use the word or phrase a certain number of times in the article. Sometimes it can be difficult to use the words without making it sound forced. Experienced web writers have developed ways to make the keywords flow naturally into their articles.
Once you've gotten a few web writing assignments under your belt, you can decide what type of web writing suits you best. You can find work on writing message boards, freelance writing job sites and classified ad sites like craigslist. Whenever you apply for a job, make sure to include your contact information and a few well-selected writing samples.
You can also write for this website as well and earn!

---
Women Writers

›