Pakistani Home Decor
Pakistani Home Decor - Arts & Crafts - Deck it Up!
Pakistani home decor has its unique characteristics in design and in mix of colors. While several items are filled with a medley of colors, other are dark and sober with their wood color tones.
Home Decor gives a home or a room its character....these can be hand-painted flower vases to more elaborate silver ware and stained glass artistic mirrors. Then there are cute little collectibles made of ceramic, wood and metal that give such a cozy look to any corner that you just love it.
Pakistani Home Decor - Blue Pottery
Blue pottery is one of the traditional ceramic wares manufactured in the area of Multan, a city rich with cultural heritage of Pakistan. Also known as Kashi work, the art of glazing tiles with intricate patterns of flowers and leaves depicts the influence of Persian culture in this region. These are produced in a wide range - from kitchenware to vases and plant holders. A beautiful range of pottery that adds color and style to any room is available from a peculiarly designed earthen ware to lovely blue ceramic dishes, vases, cookie jars and planters... a hallmark of the famous Multani art, one of the most favored Pakistani home decor items.
This art is also practiced in the lower Sindh area, where the famous Hala tiles are made using the same technique as Multani pottery. Hala tiles and plates are famous for their color combinations and designs and have been one of the major charms for visiting tourists to take back home.
While the art as a craft is practiced mostly by men with some women artisans indulging to create livelihood, the use to decorate houses is largely a woman's desire, hence we have  included this craft on our website.

In a monograph titled 'Traditional Pottery Techniques of Pakistan' published under the Smithsonian Contribution to Anthropology Series, Smithsonian Institution, Washington DC there are details of pottery work of this nature from across Pakistan. It is interesting to read the different perspectives related to this art form.
Pakistani Home Decor - Marble & Onyx Products 
Marble Solitaire Board
Marble and Onyx products of Pakistan are known for their excellent quality. There are decorative items such as vases, paper weights, plates with inlaid gems work and interesting chess board games and solitaire board games.
We have added a page for the exquisite and unique gift item 'Solitaire Board Game' on the link below along with the rules of playing the game:
Pakistani Home Decor - Colored Glass
These few pieces of blue glass add color to any corner...
There are more vibrant colors such as red, turquoise and green that are used for these lovely decoration pieces to brighten any corner of your house.

Pakistani Home Decor - Silverware
Depicting the era of the bygone days of the nobility, from small decorative center pieces to delicately carved bowls and candle stands, Silverware pieces add class to any room.
Added to these are a touch of being bejeweled with lapis lazuli. Various sized jewelry boxes and napkin stands take you back to the days of the Nawabs and Maharajahs.
Silverware is made in the costly sterling silver as well as German silver which is a bit more affordable yet has the same elegance as that of sterling silver. Another 'must-have' Pakistani home decor addition in many of the households. Also make very good and traditional gift items.

Pakistani Silverware
Pakistani Home Decor - Paintings & Sketches
Beautiful works of art in the form of paintings and sketches are used for home décor. Many of our women entrepreneurs have adopted this as their livelihood and are presented on our 'What's New' pages as their interviews and works of art are displayed for MizLink Pakistan. 
Arts and Crafts are a passion of women working from home. There are many interesting art forms that females adopt as a way of earning while enjoying what they do.  Many of the artists have achieved national and international acclaim with their amazing productions be it paintings and sketches, paper and wood craft and glass and marble items.
Calligraphic Art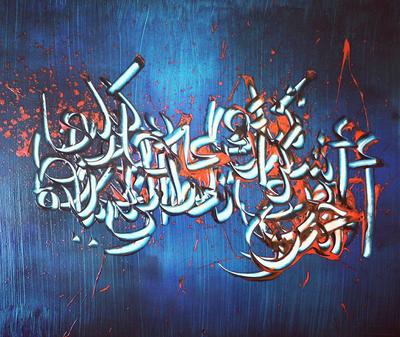 Calligraphic Art
Beautifully rendererd art peices with calligrahy of Arabic Quranic verses are a favorite of Pakistani Home Decor and many worlks of arts that adorn Pakistan's homes are calligraphic art. 
We have added interviews of amazing artists in the field on our relevant pages. The exquisite work of art here is by Lalahoum Calligraphy and a full page has been dedicated to her interview and links to her social media pages as well.
Pakistani Home Decor in Hand-carved Wooden items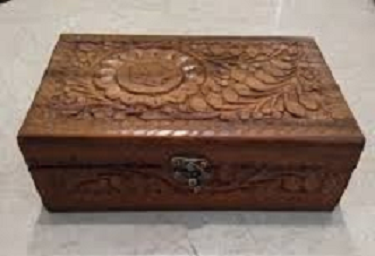 Hand-carved Jewelry Box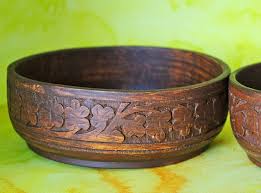 Wooden Bowl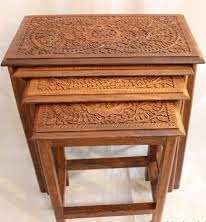 Carved Nest of Tables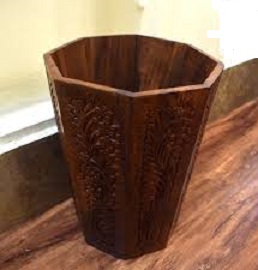 Wooden Dustbin
Pakistani Home Decor-Arts and Crafts, Products, Services, Businesses, and Profiles
Click below to see what visitors have shared...

---
Home Decor