Fan Art by Sannayart
by Zainab Nasir
(Karachi)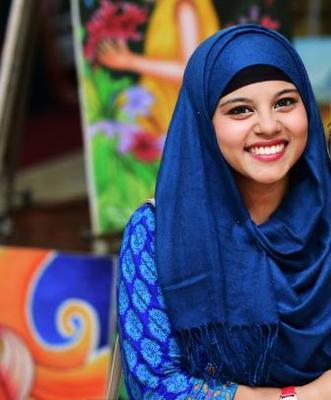 Sana Ashfaq-Owner of Sannayart
Sannayart is a venture that offers Fan Art digital and graphic comic artwork for renowned entertainment companies, as well as commissioned work for all.

Venture: Sannayart
Owner: Sana Ashfaq
Location: Karachi, Pakistan

Fan Art by Sannayart-Interview
Q. What drives you?
A. I love playing with colors. It's like a therapy. I can spend hours coloring because there are endless possibilities. When I was in 7th grade, I realized that I could sketch better than my class mates. That pushed me to sketch on a regular basis. Back then going to an art supply shop was like Alice in Wonderland. Though I paint digitally now, I still buy color pencils, watercolors, markers etc. and I still get excited whenever I go to any art shop.
Q. How did you get here and how long have you been doing this?
A. I always considered art as a hobby. I did my intermediate in engineering, though I always wanted to be an artist, but I was worried about not having a future in arts. My father being my biggest fan, asked me to take my talent seriously and I enrolled in an art university and the rest is history. Till then I had no idea about digital art, but as soon as I was introduced to Photoshop, I fell in love with art on a whole new level. I've been working professionally as a colorist at AzCorp Entertainment for a year and a half now. I finally found the nerves to make my very own art page four months back and have been doing commission work since then.
Q. What has been your vision and what do you most love about your work?
A. My vision is to become a well known Pakistani artist. I spend countless hours practicing to be just that! What I love about my work is that I can never grow tired of it. People often feel exhausted after work, but I feel more relaxed and energized. I literally find new ways to use my tools every day. I really do love what I do and I enjoy doing it. While working, I feel like being in this little, safe bubble where I can do whatever I want.
Q. What do you think is your biggest achievement throughout your professional journey?
A. My biggest achievement is that I worked on the latest comic issue of 'Team Muhafiz' as a colorist and a letterer, which is one of the biggest projects of AzCorp Entertainment. I felt ecstatic to see my name on the front cover. It gives me joy to see how much I've improved and how far I've come.
Another thing that I consider an achievement is that I have people looking up to me. I have a few university juniors/friends sending me their work and asking for guidance. It feels amazing when they follow your suggestions and are contented with their end results.
Q. What are your current projects and what do you plan on doing in the near future?
A. I work as a colorist, letterer and a graphic executive at AzCorp Entertainment. I'm currently working on a comic book named 'Jasoosun Sheeba and the Private Detectives' as one of the colorist. I also have my facebook art page and an insta account. I've been doing freelance projects as well. I want to improve my work further. I won't stop practicing because there's always room for improvement.
Q. A word of advice you would like to pass on to other women struggling with their start-ups?
A. Do not let small obstacles make you doubt yourself. Believe in yourself and never stop practicing. There might come a time when you think you're not improving anymore and you're stuck, but trust me you're only going forward. Don't be scared of starting it small because you've to start at some point. It's like climbing a ladder, one step at a time.
Connect with Sannayart on
Facebook
or on
Instagram