Women in Sports
Women in Sports from Pakistan have excelled in a number of fields such as Swimming, Skiing, Hockey, Cricket, Tennis, Squash, Cycling, Chess, Athletics,  Martial Arts and other sports. The growing numbers of gyms and fitness centers help in meeting the training and keeping fit requirements for these dedicated athletes. In schools, as well, there are regular sports events where young girls take part in several athletic feats. The women that are making sports' headlines are referred here from time to time.

Women in Sports - First Figure Skater of Pakistan
Mallak Faisal Zafar 
Pakistan's Ice Princess - is the First Pakistani Figure skater who has not only introduced the sport in Pakistan but has also won global accolades by winning the Gold Medal in the two-day Basic Novice Girls II category at 24th International Eiscup Inssbruck 2019 (Nov 22-24) in Austria, at age 12. She lives in Dubai and has participated in various figure skating contests in Gilgit-Baltistan, Pakistan. 
She continues to inspire and practice for more global competitions and has entered a new field in Pakistan for women in sports to aspire for.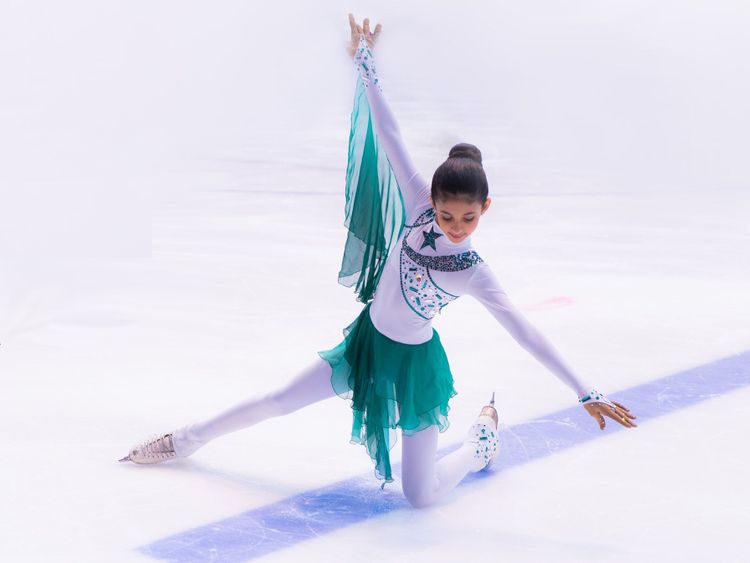 Mallak Faisal Zafar
Women in Sports - Swimmers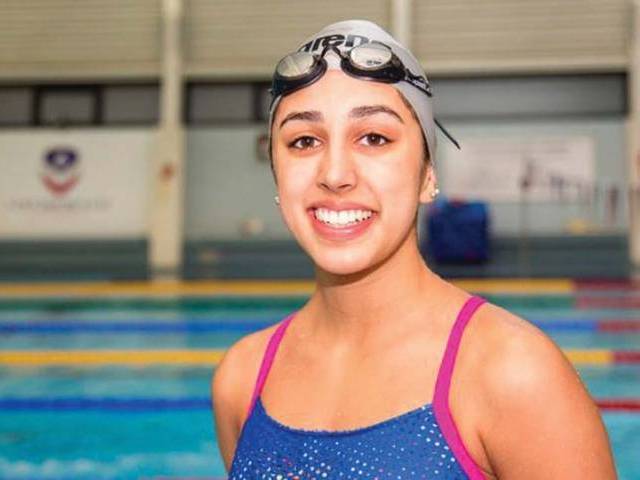 Lianna Swan-Swimmer
Lianna Catherine Swan
Lianna is one of the accomplished swimmers from Pakistan who has several regional medals to her credit through seven national records. As a teenager of 19 years she managed an entry into the Rio Olympics of 2016. Her entry came as a pleasant surprise through her own efforts. She represented Pakistan in the South Asian Games (SAG) 2016 held in India where she won gold and silver medals in women's 200m and 100m breaststroke category, respectively.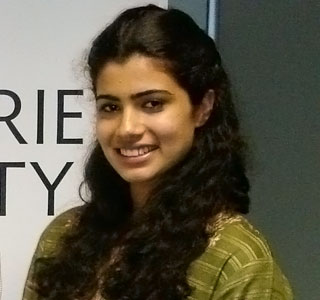 Rubab Raza-Swimmer
Rubab Raza
Rubab Raza (born January 15, 1991) a young Pakistani swimmer from Lahore has won a number of national titles and has won at Asian swimming tournaments. In 2004, she was the youngest sportsperson representing Pakistan in the Olympics 2004 in any event at the age of 13. By then she had established her credentials with her performance in swimming championships in several events nationally and internationally, which won her a wild card entry into the 2004 Olympics.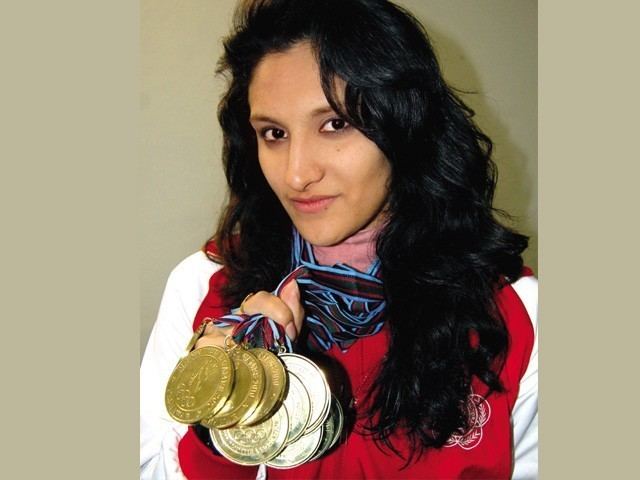 Kiran Khan-Swimmer
Kiran Khan
Kiran Khan (born December 21st, 1989)  a swimming champion from Lahore, has represented Pakistan on many International forums namely Asian games since a very young age. She participated in the Asian Games as well as the Commonwealth Games, in addition to several other international swimming meets including the 2008 Summer Olympics, representing Pakistan. In the South Asian Games Kiran succeeded in winning 16 medals in just two editions of the Games competing against participants from 8 member nations of the South Asian Association of Regional Cooperation. On a regional level she won 6 silver and 2 bronze medals in 2004 at Islamabad. She also won 2 silver and 6 bronze in Colombo 2006.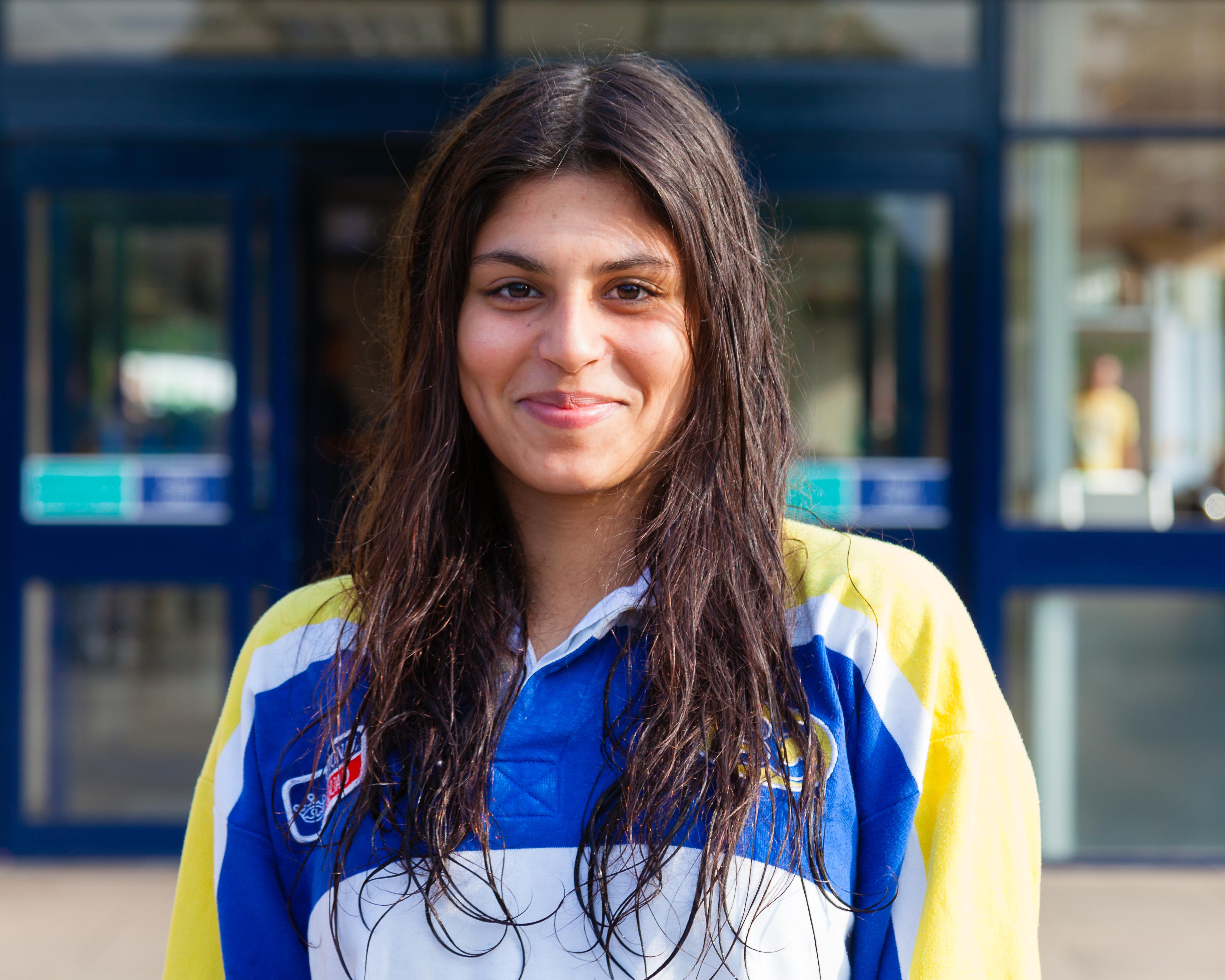 Anum Bandey-Swimmer
Anum Bandey
Anum Bandey (born 22 March 1996) is a Pakistani swimmer. In June 2012, she became the country's third female swimmer to be given a wild card for the Olympics.  As of 31 December 2011, Bandey holds 2 national records. In 2011, Bandey took part in the 14th FINA World Championships held in Shanghai, China where she set a new national record of 5 minutes 37.11 seconds in 400m individual medley. It was this performance which earned her entry into the London Olympics. Bandey participated in the 400m individual medley event at these Games where she placed last in her heat. However, she created a new national record when she swam the event in 5:34.64. She was selected to compete in the 2014 Commonwealth Games in Glasgow, UK. She currently swims in Barnet Copthall Swimming Club, North West London.  

Women in Sports - Alpine Skiers
Amina Wali & Ifrah Wali-Alpine Skiers
Amina Wali & Ifrah Wali
Amina Wali is a Pakistani alpine skier and a student of Environmental Sciences. She is the good will ambassador to Plan International Organization supporting its campaign "because I am a girl". She is the eldest daughter of Lt Col (R) Amjad Wali and was born in 1993 in Abbottabad. She started skiing at an age of 4. She is the first lady (along with her sister) to win an international medal in Skiing for Pakistan. She hails from Ghizer district of Gilgit-Baltistan.
 Ifrah Wali is Amina's sister and  also a Pakistani alpine skier. She was the first winner of the Giant Slalom event at any South Asian Winter Games when she won at the inaugural games held in India. In 2011, Wali won the Giant Slalom event at the South Asian Games in India by beating her sister, Amina and an Indian competitor. In January 2017, Ifrah was named to Pakistan's 2017 Asian Winter Games team.

Women in Sports - Athletes 
Long Jump
Asteria de Sa was an athlete from Pakistan. She was the first national champion in long jump. She was educated at St. Joseph's Convent School in Karachi and was with the girl guides from the 1930s. She represented Sindh province at the 1st Pakistan Olympics (now National Games) held at the Polo Ground in Karachi. She participated in both track: relay and 100 yards as well as field events: long jump and javelin. de Sa also later served as manager of the Sindh Women Team at the National Games held in Montgomery (now Sahiwal) and Dacca (now Dhaka). She was a pioneer in the field of women in sports.

Shabana Akhtar-Athelete
Shabana Akhtar
Shabana Akhtar (born April 5, 1972) is an Olympic athlete from Pakistan. She became Pakistan's first woman to compete at the Olympics when she took part in the women's long jump at the 1996 Olympics. She is a 42-time Pakistan national champion, having won the 100m and 200m dashes from 1989–1998, and from 1992–1998 the 400 metres, long jump, high jump, 4 × 100 m Relay and 4x400 Relay. In the picture she is carrying the baton. She represented Pakistan at the: World Championships: 1993 and 1995; South Asian Games: 1989, 1991, 1993, 1995; Women's Islamic Games: 1993, 1997

Female middle-distance runners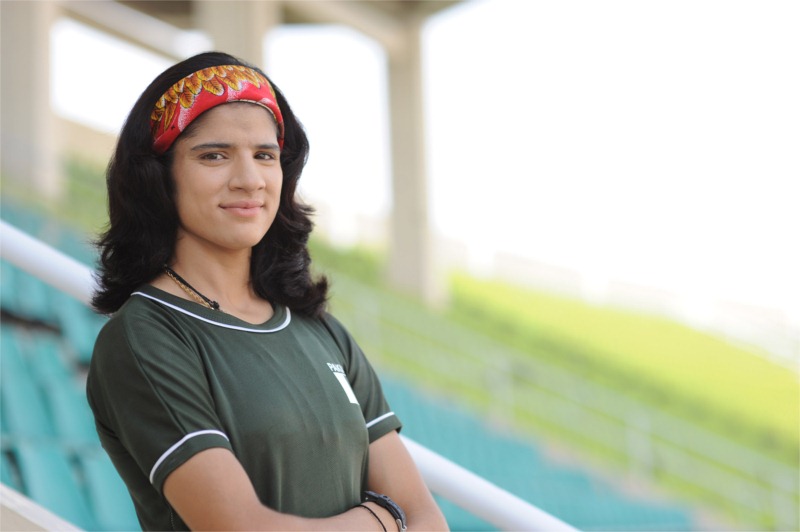 Rabia Ashiq-Athelete
Rabia Ashiq

Rabia Ashiq (born 15 April 1992 in Lahore) is a Pakistani track and field athlete. Ashiq represents Water and Power Development Authority (WAPDA) in national competitions. She was awarded a wildcard for the 2012 Summer Olympics in London where she competed in the 800 metres and finished sixth in the fourth heat of round one. Personal bests: 800 metres – 2:10:65 (2012), 5000 metres – 19:04.00 (2012)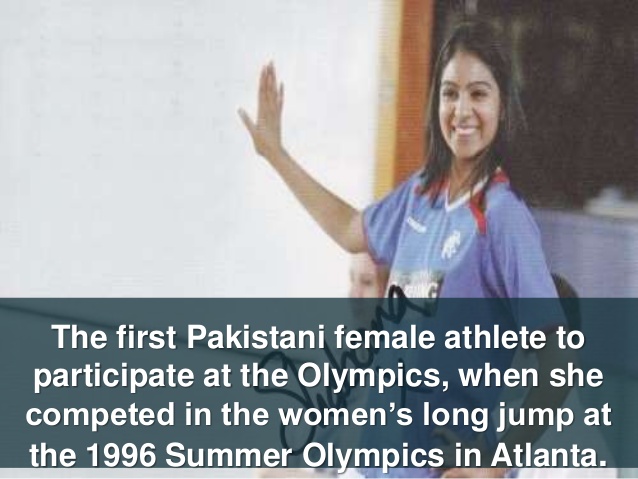 Shazia Hidayat-Athelete
Shazia Hidayat
Shazia Hidayat(born 4 April 1976) is a Pakistani former track and field athlete. She was the only female athlete on the Pakistan team competing at the 2000 Olympics in Sydney, Australia. Her personal best for the 1500 metres is 4:58.79 minutes. She participated in athletics in the 2000 Summer Olympics in Sydney, becoming the second woman to ever represent Pakistan in an Olympic event. Born in Chichawatni, Punjab, she grew up in a village 360 kilometers south of Islamabad. She started running at the age of 14. In 2011 Hidayat, also competed in the Knights of Columbus Indoor Games in Saskatoon, Canada. She currently works at the University of Saskatchewan, takes classes to further improve her English, and trains in the afternoons.

---
Women in Sports