Handmade Crafts by Galaxy Artwork
by Zeenat Umer
(Lahore)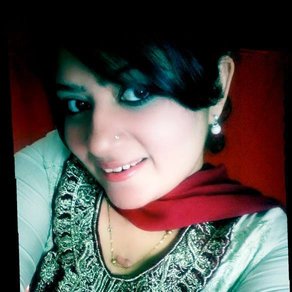 Faiza Atif-Owner of Galaxy Artwork
Galaxy Artwork is a venture that offers a range of handmede crafts like paintings on canvas, mirror, hardboard, paper and glass and ribbon work on cloth wall-hangings as well as
handmade decoration pieces, handmade bangles, handmade cards, handmade frames for all ages.

Venture: Galaxy Artwork
Owners: Faiza Atif - Owner of Galaxy Artwork
Location: Lahore, Pakistan


Handmade Crafts by Galaxy Artwork-Interview
Q. What drives you?(What makes you so passionate about your work)
A. I think everyone has some hobby so he/she can avail his/her leisure time. To paint is my passion, because it helps me in my hard time to come out of negative feelings, depression, tensions and stress. I love to use colors to reflect my thoughts, ideas, imaginations and dreams about life.
Q. How did you get here and how long have you been doing what you do?
A. My education was not ART based and rather I studied to be a psychologist. But my passion for art never died and always remained by my side when I was studying psychology. From childhood, I always spent my pocket money to buy colors. I was very fond of painting from the first day of school. But I started to paint as a professional in September 2016 when I was in USA and someone saw my one painting and could not stop admiring me for it. They later offered me a good sum of money for my piece of art and I decided to turn my gift into a profession.
Q. What has been your vision and what do you most love about your work?
A. My vision has always been to impress my viewers and customers by my work. I love that the art I produce is not highly charged for. This makes it approachable for all classes and after all, art is something that should see no class.
Q. What do you think is your biggest achievement throughout your professional journey?
A. I exhibited my work for the first time in February 2017 and that was my first biggest achievement in this profession. But every time a customer or a person praises me for my work I feel like I have achieved something.
Q. What are your current projects and what do you plan on doing in the near future?
A. First side of my work would be my paintings (canvas, mirror, hardboard, paper, and glass ) and ribbon work on cloth wall-hangings .
Second side of my work would be my craft projects, (handmade decoration pieces, handmade bangles, handmade cards, handmade frames etc.)
In the near future, I would like to make several collections of art which I could display in some big exhibition.
Q. A word of advice you would like to pass on to other women struggling with their start-ups?
A. Sometimes, when we start some work, our efforts are high, our dreams are big, and our urge to touch the peak is very strong and that's what gets us to produce something extraordinary. But often in the beginning we do not get awarded accordingly so please keep this thing in your mind. It is just the beginning. You have to be determined that you can do this, you can prove to the world your capability. Try to impress others by endless effort and hard work. By engaging a large group of people through some way (multimedia, internet, websites or online channels) and definitely, you will enjoy your journey, a depth in your profession and get a perfect place to carry on your startup.
(The more positivity you give to your profession, the higher you will achieve); love, Faiza Atif.
Connect with Galaxy Artwork on Connect with Galaxy Artwork on
Facebook