Clay Sculptures by FunparaZ
by Zeenat Umer
(Karachi)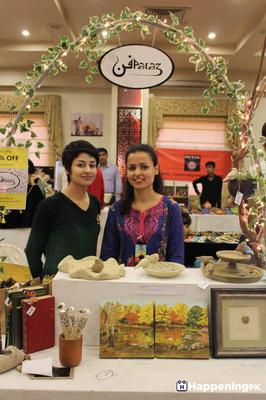 Sana & Sara Khan- Owners/Team FunparaZ
FunParaz is a venture that offers clay sculptures and artwork ranging from stone bird feeders & baths to unique bookmarks and colorful oil paintings - every single product a joy to create and to own for all.

Venture: FunparaZ
Owners: Sana & Sara Khan - Owner of FunparaZ
Location: Karachi, Pakistan


Clay Sculptures by FunparaZ-Interview
Q. What drives you?
A. Creating art has a cathartic effect on me. I come from a family of nature lovers and appreciating the uniqueness of everything we see was ingrained in us right from the start.
Colours make me happy and with nature as my muse I took to painting skies, ocean and capturing the wonders of autumn. What drives me is my desire to capture the beauty of nature and freeze the moment for all to see. We live in troubled times and in these little captured moments I find joy which I wish to share with the rest of the world.
Q. How did you get here and how long have you been in this profession?
A. I have been painting and creating small clay sculptures since school time. Despite being told by family and friends to display my artwork and peruse it professionally, I kept it as a hobby for years until last year, when finally after much persuasion from family, I decided to start a little venture under the name of 'FunparaZ' with my very creative younger sister, Sara. We launched our brand at the Bohemian Crunch Art show which was held by the Crafter's Guild in February 2017.
Even though we are a very new start up in the market, just taking the initial baby steps of our journey, the response we received at our launch from the organizers of the show and the visitors was beyond compare. We were absolutely blown away by the appreciation we received and it's this encouragement that has helped us in continuing to produce more unique work.
Q. What has been your vision and what do you most love about your work?
A. 'Funpara' (pronounced fun-paa-raaz) is an Urdu word that literally means art work and we gave it a contemporary twist by adding a Z at the end and making the plural word FunparaZ instead of the regular 'funparay'. So when we decided to showcase our products, we made sure that each product will be a 'Funpara' (artwork) on its own, representing our brand and its nature perfectly.
We started FunparaZ with the vision to create art that is unique, affordable and practical. Everyone wants to own something beautiful and unique for their home but beautiful and unique things aren't exactly affordable. We make sure that when you own one of our products, you not only have something beautiful and unique but also something that is equally affordable.
What I love the most about the things that we create is the affordability it offers to the common man and the joy it brings to them to own a 'funpara'. I have yet to see a customer buy one of our products without a smile. From our quaint bird feeders to our unique bookmarks and colourful oil paintings – every single product is a joy to create and to own.
Q. What do you think is your biggest achievement throughout your professional journey?
A. So far our biggest achievement has been to create unique home décor products that are designed and produced locally from scratch. We conceptualize all our own products and everything is made in Pakistan which is surprising for most people because so many things these days are imported from abroad. Our proudest moment is when tell us they have never seen anything like this anywhere.
Q. What are your current projects and what do you plan on doing in the near future?
A. Currently we are working on introducing a new range of whimsical bird feeders and a unique range of paintings which will be different from what's currently out there in the market. We are hoping to expand our range of home décor products in the near future and hopefully bring in related gift items too.
Q. A word of advice you would like to pass on to other women struggling with their start-ups?
A. The first few steps of the journey are usually the hardest to take but they are also the most important. So do what you love, mingle with people who encourage you because you will need a support system to bring you up when you might lose sight of your goals, day dream a lot and always believe that you can make it happen.
Connect with FunparaZ on
Facebook