Gift of love items by fleurdamourpk
by Zainab Nasir
(Karachi)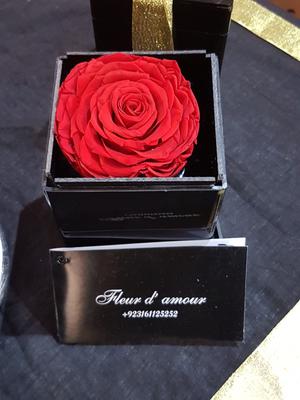 Rose in a box by Fleur D'Amourpk
Fleur D' Amour pk is a venture that offers unique gift of love items with long lasting timeless roses in jars and in boxes.

Venture: FLEUR D'AMOURPK
Owners: Marium Ryan-Owner of FLEUR D'AMOURPK
Location: Karachi, Pakistan


Gift of Love Items from Fleur DAmourpk-Interview
Q. What makes you so passionate about your work?
A. I always wanted to be a trendsetter and start something that always 'STANDS OUT'. Starting this business was a huge risk, but my drive to be unique and to stand out was bigger. The awestruck response of my clients when they find the rose exactly the same with every passing month keeps my drive alive to serve them.
Q. How did you get here and how long have you been in this profession (or been doing what you do)?
A. When I first came up with this idea, I really wanted one for myself and sadly no one in Pakistan dealt with timeless roses. This motivated me enough to bring these roses to Pakistan for people like me who appreciate the beauty of a bloomed rose when it is at its best.
We launched Fleur d'amour pk in Jan 2017, and were sold out in Feb 2017,
Q. What has been your vision and what do you most love about your work?
A. My vision was to create a Luxury roses boutique which doesn't just sell romantic products, but joyful moments that can be cherished for a lifetime. I love when my roses truly make a lasting impression and my clients appreciate them, that's the best feeling in the world.
Q. What do you think is your biggest achievement throughout your professional journey?
A. Well I think I have a very long way to go In Sha Allah, but yes one of the biggest achievements is the acceptance of my unique idea by the people of Pakistan. I don't want to just stop here; I want to reach out everywhere. We offer worldwide delivery and we delivered to UK too, this shows that Pakistan is a country which can not only have but can even offer the best of luxury products.
Q. What are your current projects and what do you plan on doing in the near future?
A. I am focusing on fleur d'amourpk at the moment and want to make it big, I don't focus on sales, I focus on customer service.
Q. A word of advice you would like to pass on to other women struggling with their start-ups?
A. The advice that i would want to share is please be brave, take risks and chances that life has to offer you. Fear is natural but nothing can substitute experience. Have faith in Allah, work very hard and be sincere and leave the rest to Him.
'You have to take risks. We will only understand the miracle of life fully when we allow the unexpected to happen.' Paulo Coelho
Connect with Fleur D' Amour on
Facebook