Abaya Designs by ALFIYAH
by Zainab Nasir
(Karachi)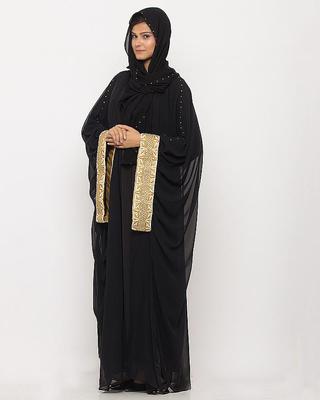 Shumaila Hadi-Owner of ALFIYAH
ALFIYAH is a venture that deals in abaya designs and accessories with a range of products including elegant scarves, hand-crafted tasbih, modest namaz dupattas for all ages.

Venture: ALFIYAH
Owner: Shumaila Hadi
Location: Karachi, Pakistan


Abaya Designs and Accessories by ALFIYAH-Interview
Q. What drives you? (What makes you so passionate about your work?
A. I like doing something for myself, I love making creative things. I did small courses like Interior designing, Pot Painting, Flower making, Foil work and in the end when I started clothing business I did a diploma in Fashion designing. So basically it is my passion to do creative work and colours.
Q. How did you get here and how long have you been in this profession (or been doing what you do)?
A. It's been seven years since I started my bridal and semiformal clothing brand href="https://www.facebook.com/Ipekpret/
" target="new" rel="nofollow">Ipek on FaceBook
I used to make bridal and party wear on order. During that time, I wanted to learn all the technical aspects of cutting and sewing so I did my diploma in fashion designing. After that I came across this ad of 'WOMEN X' a training program for women entrepreneurs.
I applied for the program and got selected after an interview. During the program I learned many things about digital media and marketing and from there got the vision of starting an abaya brand or Islamic clothing brand. It's been 2 years since I started working on this venture.
Q. What has been your vision and what do you most love about your work?
A. My vision is to make stylish and modest abaya and to compete with the middle east brands. I love my work, love designing playing with fabric making flowy cuts and giving each piece my individual signature style.
Q. What do you think is your biggest achievement throughout your professional journey?
A. My biggest achievement is not yet achieved but so far, it's the business training I got from IBA during Women X, and after that was able to qualify to have a very senior person as a mentor.
Q. What are your current projects and what do you plan on doing in the near future?
A. I started ALFIYAH with abaya only but now I have 4 more products on my page looking forward to work on these products and planning to launch a website.
Q. A word of advice you would like to pass on to other women struggling with their start-ups?
A. It's really important to have some business knowledge before starting a business. Lots of passion, dedication and patience are required so keep your hopes high and keep doing what you love to do and you will see miracles happen.
Link to venture:
Connect with ALFIYAH on
Facebook