Afshyn Sajid
by Zainab Nasir
(Karachi)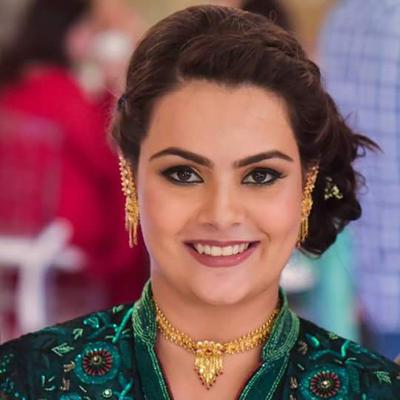 Afshyn Sajid


Afshyn Sajid of Afshyn's Linen n Acessories

Your city: Karachi

What makes you a woman of strength and determination?
My determination and satisfaction in my work, comes from belief in myself and my passion to achieve my goals. I love my work and I live for my dream.

How did you get here and how long have you been in this profession (or been doing what you do)?
My all time interest was in designing cushions and clothes. But I never thought to take it as a profession. I have a bachelor's degree in computer science. I got married at a young age just after completing my education so never got a chance to explore much. However, after a few years of getting married I got an order from a friend of mine who had always admired my designing skills. She asked me to make her a bridal bedcover and some fancy cushions. By the grace of Allah, I found great kaarigars over time and as I would design they will shape them into reality for me and my clients. I have been into this business for 8 years now, and I have now have a website through which I showcase all my designs, new or old. I am also a member/seller of SHEOPS team on their webpage as "Afshyns linen n Accessories" .

What has been your vision and what do you most love about your work?
I want my work to get recognized because I believe in quality work and a satisfied customer. I want people to appreciate my skills. I love everything about my work. It doesn't make me feel tired or dull and I can work for my brand at any time of the day and would never feel tired or exhausted. I love designing, managing my work, exploring new ways to make my work better along with looking after my beloved family which has always supported me throughout my journey.

What do you think is your biggest achievement throughout your professional journey?
My biggest achievement by the grace of Allah is that I have never lost hope. There was a time when I was not getting orders but I did not lose hope and kept on knocking doors and getting myself registered on different pages in order to let people know what I do and what my products are.

What are your current projects and what do you plan on doing in the near future?
My work currently is totally based online. I take orders online or through my whatsapp group and design clothes and cushions accordingly. Currently I am designing mostly clothes and cushions. My future plan is to have my own webpage and get more orders online.

A word of advice you would like to pass on to women professionals who wish to pursue same career path as you?
My advice would be that never lose hope, always believe in your skills and work hard to achieve your dreams and goals.