Hand Painted Bags by BLENDS
by Zeenat Umer
(Karachi)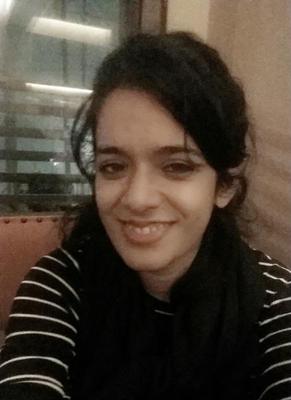 Sameeya-Owner of BLENDS
Blends of Art is a venture that offers a range of hand painted bags with bespoke paintings of pictures of one's choice, even pictures of the customers on demand, for all ages.

Venture: BLENDS of Art
Owner: Sameeya
Location: Karachi, Pakistan


Hand Painted Bags by BLENDS-Interview
Q. What drives you?
A. My drive to create has initially come from frustration of filling an empty hole inside me. As a child I was very angry and sad yet imaginative. Drawing and painting temporarily filled that void inside of me. Art made me feel more alive. I still have trouble feeling whole and hence I usually create when I am struggling with something or when something is too difficult for me to put into words or to cope with. Art has always been about delivering my colorful imagination to the world. It is basically my way of asking questions regarding what's complicating my mind and solve it.
Q. How did you get here and how long have you been in this profession?
A. I was inclined towards art from a very young age, when I was in college I filled up lots of sketch books with free hand drawings during leisure time. But honestly, I always had something else in my mind, I somehow wanted to link my art with something that did not just have to be put on a wall and be inspired from afar. I rather wanted my art to be a part of someone's everyday life. And being an artist, one takes inspiration from everywhere. Handbags was one of the things that caught my attention. So, this is how I decided to transfer my canvas, my artwork on these lovelies and they turned out to be pretty impressive. In December 2013 I showcased my work to public and since then I'm on a go in this direction as a profession.
Q. What has been your vision and what do you most love about your work?
A. Being an artist, my vision is to convey my thoughts, my experiences with life and my imagination. My vision is simply to create my own unique style or voice of painting that needs no name or signature and people would be able to identify my work by my artistic voice alone.
I love how my work makes me feel empowered and fills a hole I have felt inside of me since forever. Besides life would be too boring if you did not have something that consumes you. My work consumes me.
Q. What do you think is your biggest achievement throughout your professional journey?
A. Talking in worldly affairs my professional journey is not a huge one but I feel proud to mention here that I was awarded in 2013 in my first public display. I had two international exhibitions one in Dubai and other in Singapore, for which I was selected and sponsored. Also, I was very much appreciated by Indians, Arabs and Malaysian crowd. The exhibitions were however successful in both the countries. Best thing about these international exhibitions was proudly representing the talent of Pakistan. People were surprised to see such talent coming from Pakistan because of the negative image that has been maintained for the past few years. It was a proud moment for me to display there as a Pakistani. The other achievement so far is that I have managed to sell 450 bags in my 2.5 years journey of business.
Q. What are your current projects and what do you plan on doing in the near future?
A. My current project is improving my own product to its best. Currently working on leather wallets and moving my products from online to shops. I always aimed to have my own outlet but at the moment I am not at that stage but inshallah in the coming future I am hoping to have a shop of my own. So, for now I am working on stocking my product in a few well-known shopping outlets and collaborating with some major brands *fingers crossed*. In addition, I am planning on diversifying my products and moving my work to clothing lines as well, hope it goes well.
Q. A word of advice you would like to pass on to other women struggling with their start-ups?
A. The start is always the most difficult, and that applies to everything in life. It was difficult for me and is still difficult for me as I am still struggling because I have no direction or platform. In a business you will be fooled by many people, you will be demotivated by many people, but do not give up. Lastly, I would like to say never praise yourself too much when your time is good and never blame yourself too much when your time is bad.
Connect with BLENDS on Connect with BLENDS on
Facebook