Asim Jofa Lawn 
Asim Jofa Lawn - Collection
Asim Jofa Lawn Fabrics for 2023 are available on the online store under various categories. Some of which are as follows:
Rania Collection - New Arrivals

Mehr-o- Mah Collection

Maahru and Noorie Collection

Ready To Wear - Chic Collection, Melange Collection

Luxury Lawn

-

Luxury Lawn various years

Chiffon Collection - Naubahar Chiffon Collection, Orne' Collection, Festive Mysorie

Embroidered Collection - ZarTaar Collection, Organza Collection, Signature Collection

Luxury pret

Wedding - Formals

&

Bridal

Western wear
Embroidered Collection, New signature, Luxury lawn 2023, Mysorie Chiffon, Limited Edition, Mysorie Chiffon, Luxury Chiffon, Luxury pret, Crepe Silk, Formals, Bridal and also Western wear & Leather Jackets.
Western wear has luxurious cuts and styles with loose halter tops with bows and straps at the back and straps on sleeves paired with fitted boot cut pants with slits on front. Designs with elegant ensembles showing bateau neckline and chic bodice with dropped waist. The style around the waist being glamorously twisted and giving a ruched effect. 
Asim Jofa Lawn - Premium Collection
The Brand's Premium Lawn collection has been a combined effort of some of the finest talents of our country - designed by HSY, Photographed by Ather Shahzad, the styles are usually modeled by Iman Ali and several other models and manufactured by JOFA Textiles, one of the finest in the industry. The styles blend exquisite cultural patterns with soft colors alternating with deep rich, shades giving the range a regal look.

Asim Jofa Lawn - Online
The website and online store has many images from which to choose. The very vast range of not only lawn prints but of chiffon, silk and other materials is also displayed there. The online store has size charts and size guides. It also tells about the store locations and stockists.
The e-Catalogue for the chiffon collection available on the website has been photographed at exotic locales giving the entire range a very glamourous look. All the models and the locations add to the experience and make it enjoyable to leaf through.
The online store can be visited on the following link:
We have here some of the prints we could collect on the net for our readers:

Asim Jofa Lawn Fabrics - Lalam Collection
Outfits like lovely kalidaar made on a brilliant crimson shade net complemented by Victorian patterned gold dust border on hem in sapphire blue hue. A straight cut trouser and chiffon dupatta edged with organza pleating and gold lace completes the look. Fabric for shirt is net, pants in raw silk and dupatta in chiffon.
The other outfit is made with shirt in net fabric, pants in raw silk and dupatta in organza. The color in deep garnet hue is stitched with a pretty front open kalidaar embellished with a heavy gold woven border along the hemline. Neckline and sleeves are adorned with delicate  needlework topped with fine zardozi details. This design sports a Dhaka Pajama and lace edged organza dupatta.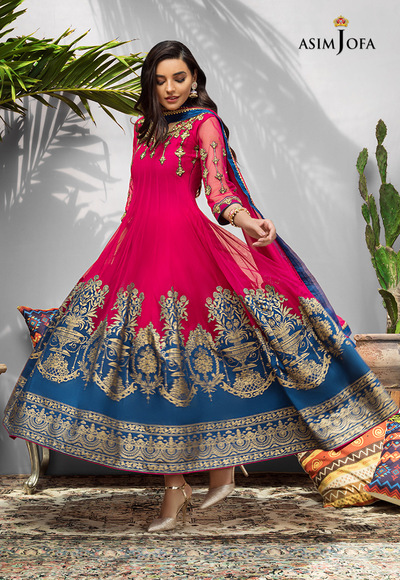 Lalam Collection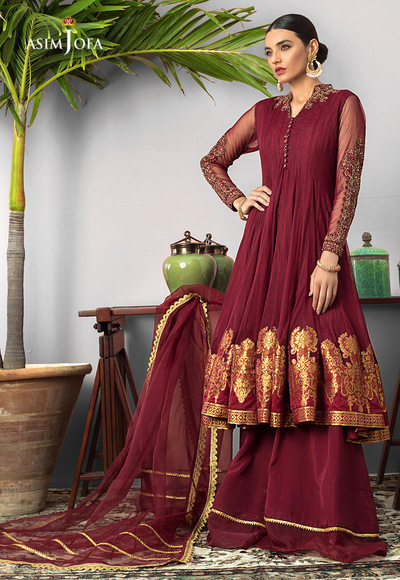 Lalam Collection
Asim Jofa Lawn - Luxury Lawn Collection
Outfits include material for embroidered front, back and sleeves on organza, two embroidered borders for daman, dust printed slip and trousers with printed silk dupatta. This outfit is in lovely peach tone. Worked with subtle threadwork and sequins along with a gold dust printed slip makes the whole outfit dazzling.
With a soothing blend of lovely soft colors and intricate patterns of embroidery sports a classy and bold printed trouser. Fabric includes embroidered panels  and embroidered border for front and back, printed shirt and trousers with a lovely chiffon dupatta.
Cool colors in off white floral slip with a same color organza embroidered delicately with sequins on the front and covered with tiny floral buds on the back. Design includes embroidered front and back with thin embroidered border for the back. Dyed organza sleeves with printed trousers, lawn slip and printed silk dupatta depicts the heritage of our opulent culture. 
Lovely white with a subtle embroidered shirt with Kashmiri needlework on the front and the back makes this outfit exquisite. Fabric includes embroidered side, center and back panels. Sleeves are in dyed jacquard with embroidered border for back, front and sleeves. Printed silk dupatta and dyed trousers make an elegant ensemble.
Partywear for cool lunches and tea parties gives a feeling of calmness in oriental white made with fine printed borders and sleeves with embroidered bunches scattered in tones of blue are decked with sequins. Fabric includes embroidered back and front with printed silk dupatta and trousers.
Black and red outfit with fine handcrafted mirror and pearl work has a touch of the traditional Baluchi style.  This awesome combination of red and black speaks for its elegance. Combined with a dyed dupatta embellished with mirror and pearl work all over, and dyed trouser.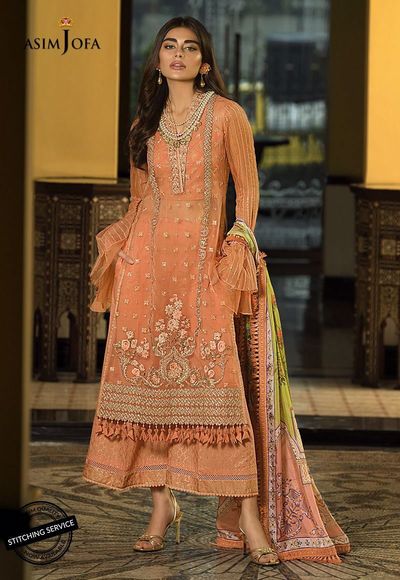 Luxury Lawn Collection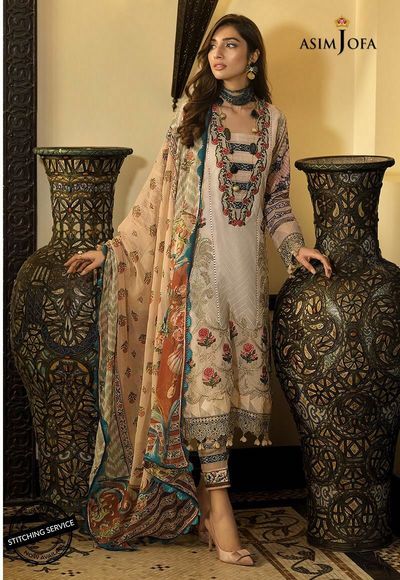 Luxury Lawn Collection
Luxury Lawn Collection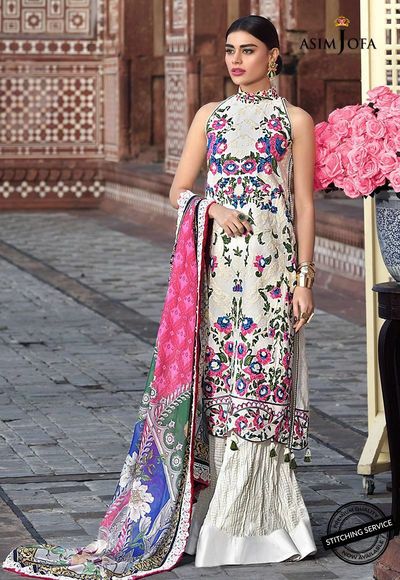 Luxury Lawn Collection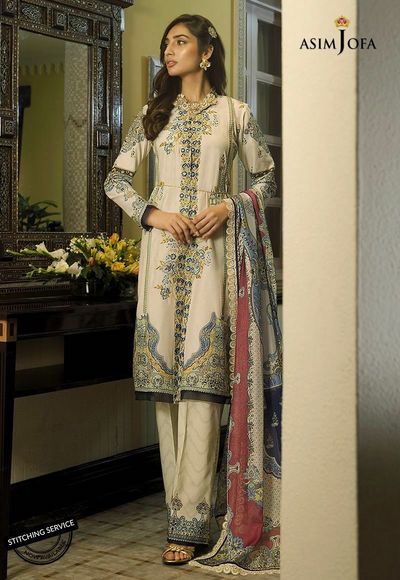 Luxury Lawn Collection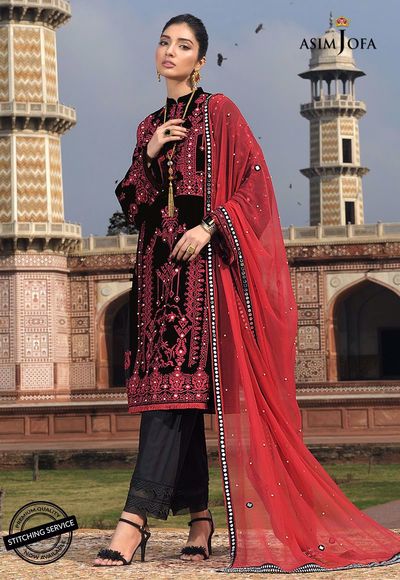 Luxury Lawn Collection
Asim Jofa Lawn - Luxury Pret Collection
Outfits sport self jacquard organza shirt in mint green with intricate zari work and sequins on the neckline and hem. Adorned with embroidered buttons and raw silk boot cut pants.
Exotic gold organza wrap with shawl collar and bell sleeves has a silk inner top with raw silk cigarette pants.
Navy blue off the shoulder top with embellished neckline also all over the hemline and daman with gold Dori and Sequin work on shocking pink appliqué with a lining. Dark beige Raw Silk cigarette pants with embroidery and cutwork in bronze, gold and maroon.

With a gathered stand collar in white Mysorie net wrap, long front and short back length tied with a belt on the waist worn with an inner silk camisole and raw silk cigarette pants, gives an outstanding dazzle to the wearer.
Luxury Pret Collection
Luxury Pret Collection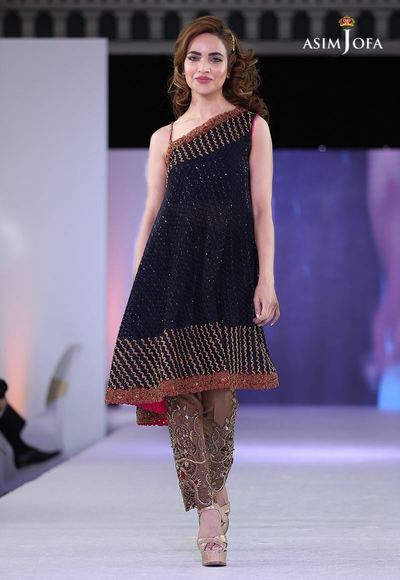 Luxury Pret Collection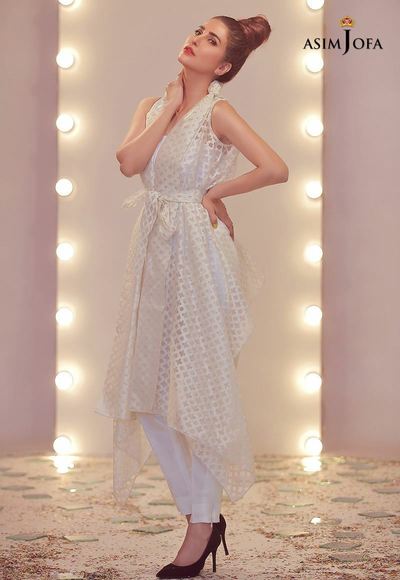 Luxury Pret Collection
Asim Jofa Lawn - Embroidered Collection
Embroidered Collection has styles called Zartaar Collection, Organza Collection and Signature Collection. With exquisite marori work the styles are traditional yet trendy made in elegant colors like teal, mint green, beige and gold and white. Zari work adorns the outfits with ethnic paisley motifs and dori work. banrsi pants with gold thread work, dyed organza dupatta, dyed jacquard dupatta, dyed raw silk trousers combine to give lovely ethnic outfits in fabrics other than lawn.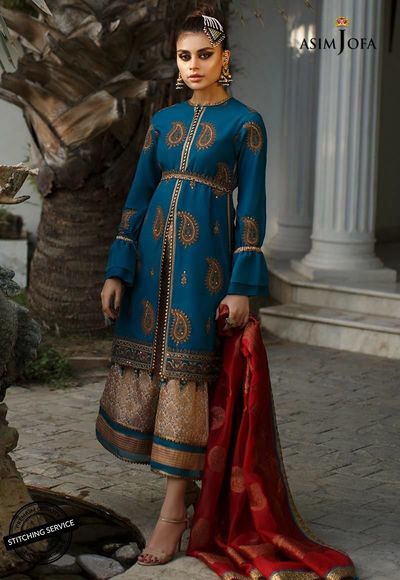 Embroidered-Zartaar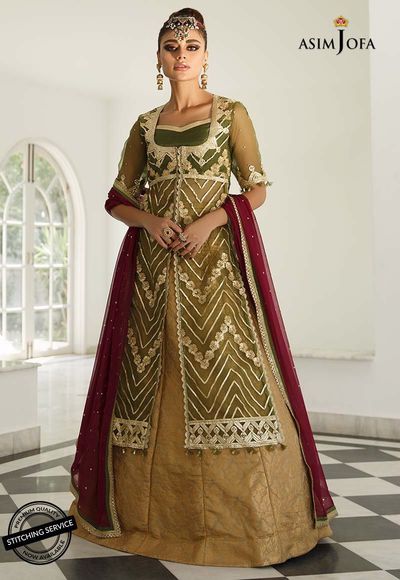 Embroidered-Zartaar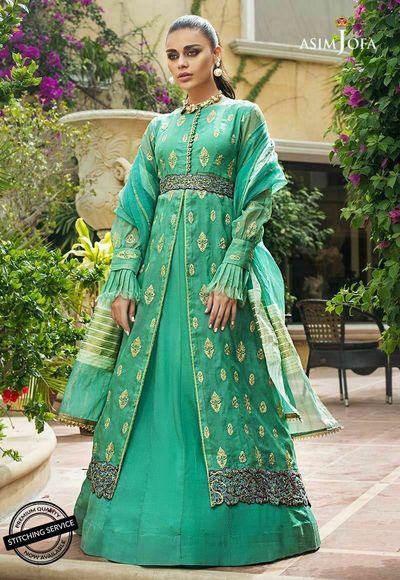 Embroidered-Organza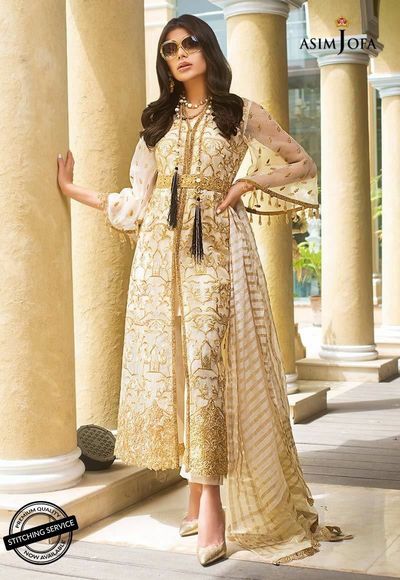 Embroidered-Organza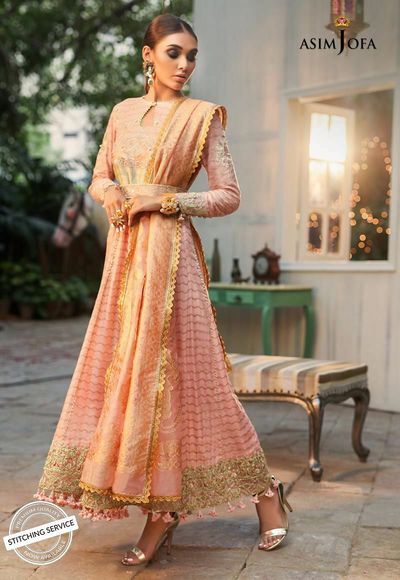 Embroidered-Signature
Embroidered-Signature
Asim Jofa Lawn - Chiffon Collection
Chiffon Collection-Naubahar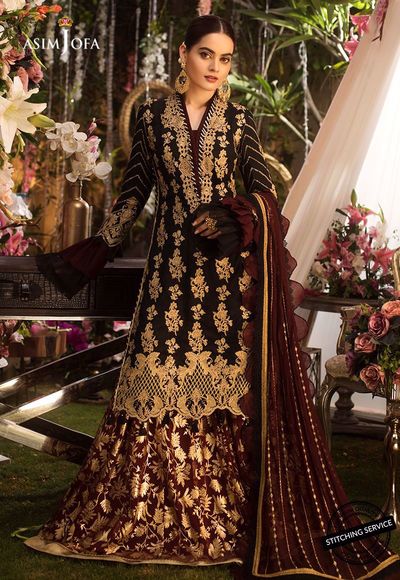 Chiffon Collection-Naubahar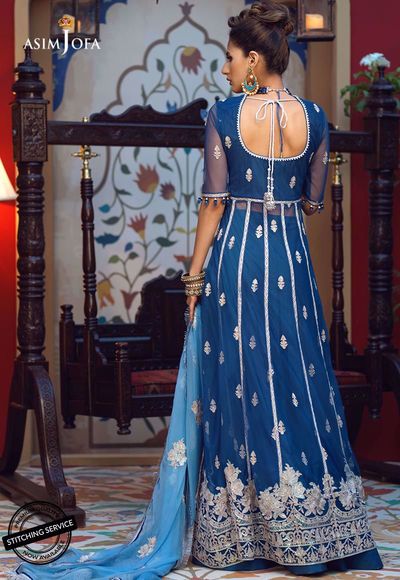 Chiffon Collection-Orne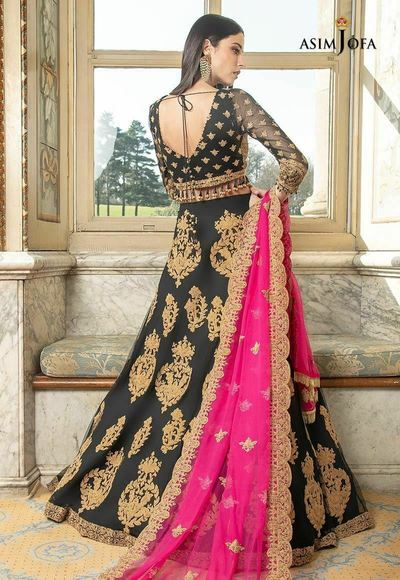 Chiffon Collection-Festive Mysorie
Asim Jofa Lawn