Embroidered Cushions  
Embroidered Cushions - a Handicraft Specialty of Pakistan
Embroidered Cushions - Covers that add color- or simply - cushion covers that are carefully hand embroidered with colorful thread work and mirrors, and add warmth and glow to any interior.
The patterns vary from floral to geometric with vibrant or muted color combinations. Usually made on cotton fabric dyed to match the colors to be used to give a solid base. The entire piece of cloth is covered with motifs with borders and inner designs. Mirrors are added to give more vibrancy and style.
Embroidered Cushions - Colorful Threadwork
Cushions give the rooms color and easy makeover. These are available in pure cotton with coloured silk thread embroidery.

Made by women artisans that are experts in these designs and styles work mostly from home as cottage-industry. These are handicraft specialty of Pakistan mainly form Sindh region.The art is practiced mostly in the Kuchh region of Sindh, providing livelihood to many low income households. There is a need to help these artisans by providing business services from product development to outreach in the various markets.

Embroidered Cushions - Lovely Mirror work
Patterns vary from pure colorful thread geometrical patterns to interspersed with mirror bits embedded in the motifs. Usually in pairs - one can get one piece also - with one side fully embroidered, cushion covers. These serve as exquisite gifts when visiting other countries. Foreigners traveling through Pakistan usually buy a lot of these cushion covers to give away as gifts back home as these do not take up too much space in the luggage.
For anyone wanting simple yet colorful additions in a room - these cushion covers do the trick. Inexpensive yet brilliant to add to any decor.
They make lovely gifts and give-away for all occasions - be it a birthday, house warming or Christmas - without making a big hole in the wallet!
An interesting trend is to use old used and tattered pieces of embroidered cushions or throws with mirror work or without and then sew the pieces to make a complete cushion cover. 
These art pieces are sometimes called Banjara art of the tribal areas of Pakistan. Very similar to other tribal customs of the region, this art form has unique patterns and vivid colors with mirrors to adorn the pieces. The Sindhi Kuchh region art joins embroidery and mirror work pieces to make a cushion cover.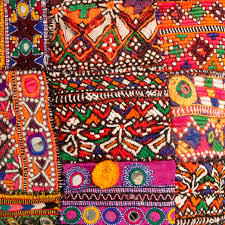 Embroidery and mirror-work pieces joined to make a cushion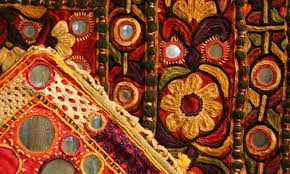 Mirror and Embroidery-work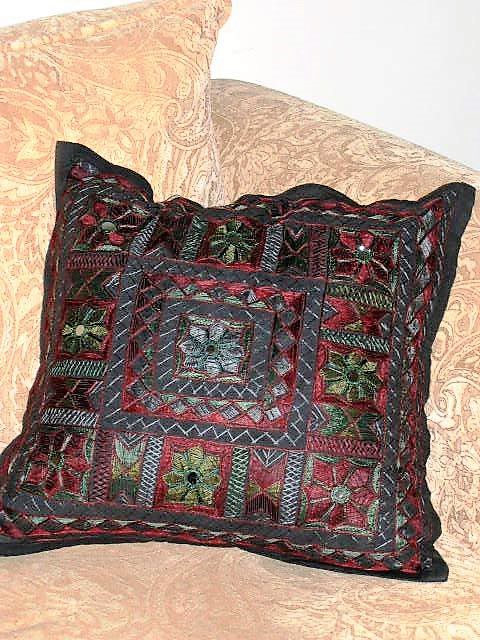 Embroidered Cushion with Multicolor Threadwork and Mirrors in black and green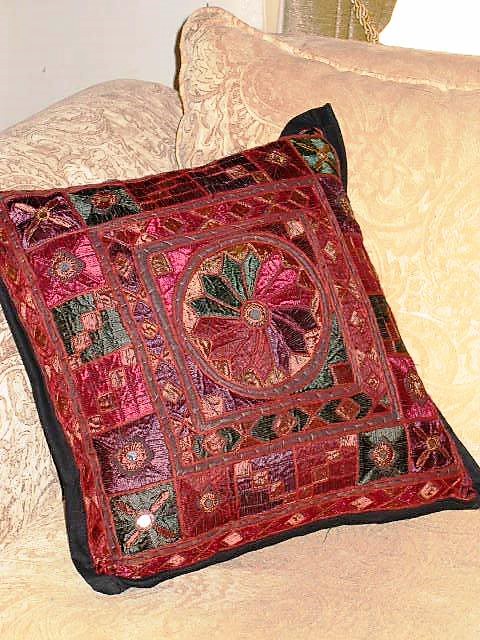 Embroidered Cushion with Multicolor Threadwork and Mirrors in red

Embroidered Cushions