Struggle to Excellence-Ruhi Naz from Jhelum
by Aneeq Sajid
( Jhelum, Pakistan)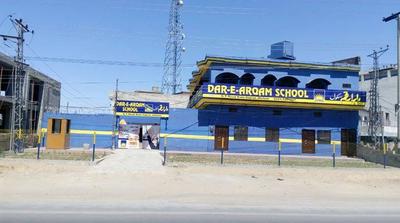 Dar-e-Arqam-Jhelum
Ms. Ruhi Naz is a teacher/educator from Jehlum. She is a mother, a wife, and a devoted teacher; Born in Kuwait. Her story is quite inspiring.

Interviewee: Ruhi Naz
Venture: Dar e Arqam
Location: Jhelum, Pakistan

Struggle to excellence - Ruhi Naz - Interview
Q. What makes you passionate about your work or what drives you and tell us a bit about yourself?
A. On inquiring, she told about her early life. She along with her family migrated to Pakistan when Saddam Hussain deported all the dual (Pakistani) nationality holders from Kuwait. When they migrated, they had to leave their whole business there which resulted in the poor economic condition of the whole family. She with the help of her education is now living a happy and prosperous life.
Q. How did you get here and how long have you been in this field?
A. Now it's been 16 years since she started her career as a teacher. At first, she entered this profession accidentally. She said, "I joined the school 'Dar e Arqam' because my children were getting their early education from that school. I was a bit afraid, so, I could not let my children go alone to school. There was a vacant seat in the school; I applied and luckily got recruited there. By doing this I not only overcame my fear of letting my children go alone but I also started to help my partner financially."
She further said, "It took almost 2 years and I was settled in the school as an experienced teacher. My accident became my passion and now it has become my habit to teach. I think that it was the best thing that I got recruited in the school."
She had to struggle in the early days of being a professional teacher. Just like others she also faced many hurdles. If there is no struggle there is no progress. Same is in her case, her devotion to the career has made her an excellent and prominent figure among the educators of the town.
She is the discipline in charge of the school and also plays a vital role in the management of the school. She said all of the struggle and her firm belief in Allah has made her a woman of determination.
Her vision is to provide opportunities for students to acquire the education not only to her own children but to each and every child in the world. For her, nothing is more important than education. She said the thing she loved about her field is the profession itself. As it is her belief that her profession not only enhances one's knowledge, grooms one's personality but also makes the professional (educator) respectable personality in the society. Moreover, she remarks; this profession is especially for those women who want to earn respect and money both.
According to Ms Ruhi Naz, her biggest achievement as an educator is her own educated family. Secondly, she has earned unexpected respect form her students and their family as well. She said she is working on herself to make her a better educator.
She is looking to start a School cum NGO in the near future where she will provide free education to poor students willing to get the education. To quote her words: "I think our government is still failed in providing a respectable and clean environment for the children (especially poor) where they can learn and polish their skills."
She said that respect and honor are the only things that a woman strives for, and this profession pays respect more than any other profession. It is the advice from her to all the women who wish to pursue their career as a teacher, salary does not matter, the only thing that matters is respect and honor; nothing works as best in this regard as being educator works.