Sharon Siriwardena (Spectacular Pakistan)
by Faiza Sherjeel
(Lahore, Pakistan)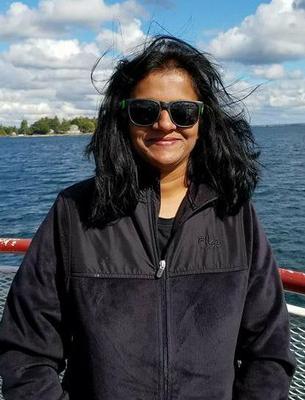 Sharon Siriwardena from Siri Lanka
Spectacular Pakistan is an International Sugar Art Collaboration for Cake Decoration hosted by Faiza Sherjeel

Event: Spectacular Pakistan
Participant: Sharon Siriwardena from Siri Lanka
Venture: Sharon's Creative Explosion Cakes
Location: Global


Sharon's Creative Explosion Cakes-Interview
My name is Sharon Siriwardena. I am an artist by profession. I am a Sri Lankan currently living in the U.S. I have two kids. My area of speciality is sculpted cakes. My work was featured in Sugar Magazine Vol.2 Issue 3, Novelty Cakes Category.
I have won international awards in art and also received a full scholarship to persue my passion in art in the U.S. I have a BA in Art Education K-12 received from Mount Mary University, Milwaukee, WI. Never knew I could turn my passion into cake decorating until I accidentally stumbled across this area a couple of years ago. Ever since that day there was no turning back, cause I knew one day I will be able to achieve my dream in life as a Cake Artist since I was so passionate and dedicated to learn the skills. I have been baking for family and friends there after as a hobby baker and it provided me with so much satisfaction to see Art being created in an edible form.
This year I have been dedicating my time to do as many Collaborations to improve my sculpting skills and get to know many cake decorating friends from around the world. I have always been a big fan of the human figure. My latest pieces done of the Royal Family to celebrate Prince Harry's big day, became my most proudest pieces to date. These pieces were done for CPC's Royal Wedding Cake Collaboration and Wedding Hats around the World Cake Collaboration. It was indeed a great honor when the editor of the Cake Decorating and Sugar Craft Magazine got in touch with me to do an Artist feature of the Royal Family sugar pieces that I made for these Collaborations. My pieces were featured in the Cake Decorating and Sugar Craft Magazine UK, May 2018 issue, to mark Prince Harry and his beautiful bride Meghan Markel's wedding celebration. Many of my pieces have been featured on Satin Ice too.
Currently I am working on a few more up coming Collaborations and planning my very own and 1st Collaboration that is scheduled to be released on the 31st of August 2018. This Collaboration will center around Stars we have lost due to Mental Health Issues. I am very excited about this opportunity as I am experiencing, for the first time how Admins get about setting up and organizing Cake Collaborations. I am also quite eager to see where my passion for cake decorating will take me in years to come.
Inspiration: Imran Khan (Famous Cricketer and politician of Pakistan)
I chose Imran Khan, the well known former Pakistani Cricket Captain to sculpt in cake. Imran was one of my favorite cricketers during my childhood days. I loved when Pakistani cricketers arrived in Sri Lanka to play against us. Their World Cup win in 1992 and all the efforts Imran put in to guide his team mates were memorable moments for me. So through this Collaboration I wish to honor him for everything he did for his teammates during his cricket career. Good luck Imran Khan you will always be one of my cricket heroes and it was an honor to make you.
Connect with me on my personal
Facebook Page