Shamilah Rashid 
A Social Media Executive
Marium Javed
(Karachi)

Shamilah Rashid A Social Media Executive at Creative Chaos is a senior executive and manages planning and executing campaigns & content that creates branding.
Venture: Creative Chaos
Executive: Shamilah Rashid
Position: Senior Social Media Executive
Location: Karachi, Pakistan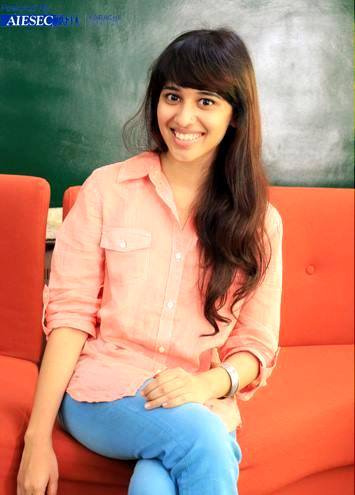 Shamilah Rashid - A Social Media Executive - Interview
Q. An insight on your profession/business?

A. I'm a Senior Social Media Executive at Creative Chaos. Basically, I monitor, measure and otherwise guide the social media presence of brands. My job involves planning and executing campaigns & content to engage with millions of people on a daily basis, and create brand advocates.
Q. How long have you been in this profession/running this business?
A. Well I got offered this position right after I graduated in 2014. I was one of the first few in my class to start working so early which makes me lucky, I guess. I started off as a Trainee and have been in this organization for over 1.5 years. I worked with a fantastic team, within a stimulating environment such as Creative Chaos's, which gave me endless learning opportunities. As an HR Major, I had a lot to learn and a lot to prove and now I'm a Senior Social Media Executive, Mashallah.
Q. What has been your vision and what do you most love about your job/business?
A. I have had previous work experience but that was entirely HR related. Hence I was very excited to start working in Marketing and for the change since it's an entirely different world. Like I said, in my time here I've learnt a lot but I still have a long way to go. I'm a perfectionist and believe in excelling in whatever I do. I take my work seriously and that's probably because I love what I do. I get to interact with new people and work on new projects which is always thrilling.
Shamilah Rashid - A Social Media Executive - Big Challenge
Q. What do you think is your biggest achievement throughout your professional/entrepreneurial journey along with one BIG challenge?
A. The challenge would be switching from HRM to Marketing. It takes a leap of faith to leave what you know for what you want, especially if you don't know that many people who have been in a similar position. I think my biggest achievement is the fact that I managed to excel in this new field, because of my constant focus on striving for excellence.
Q. What are your current projects and plans in the near future?
The one thing I love about my field is that Digital is always chaotic and evolving. There isn't a boring day, ever. So yes, I have a lot on my plate at the moment, with a bunch of projects and campaigns lined up. I'm also looking forward to getting more certifications, so the next 3 months look busy already.
Shamilah Rashid - A Social Media Executive - A word of advice
A word of advice you would like to pass on to working professionals who wish to pursue their careers or work on their startup ideas. 
The only advice I would like to give to people is that if you're passionate about your job you don't have to work a day in your life. It may sound remarkably clichéd but it's true. You didn't spend 16 years of your life studying to end up doing something you don't even like. Trust me, it's never too late to switch. All you need to do is believe in yourself and take risks. Cause if you won't bet on yourself who would? With that said, I would also like to add that people should know why they're doing something. That always gives you perspective. Find out the importance of a task and then by default you'd want to excel at it.
Shamilah Rashid - A Social Media Executive