Seema Bagaria (Spectacular Pakistan)
by Faiza Sherjeel
(Lahore, Pakistan)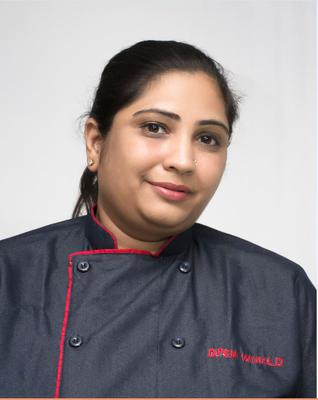 Seema Bagaria from India
Spectacular Pakistan: An International Sugar Art Collaboration hosted by Faiza Sherjeel

Event: Spectacular Pakistan
Participant: Seema Bagaria
Venture: OPEN World
Location: Howrah/Kolkata, West Bengal, India


Seema Bagaria from India Spectacular Pakistan: An International Sugar Art Collaboration - Interview
HI everybody, I am Seema Bagaria, a dedicated housewife, mother of two naughty children and Founder-Owner of OPEN World, Howrah/Kolkata, West Bengal, India.
OPEN WORLD… A boutique Home Bakery … A small but Passionate venture, a Dream come true … my very own adventure into the World of Baking and Cake Decorating. The Tag line sums it up…. WE BAKE DREAMS…EMOTIONS…
Please visit my page on FaceBook given in the link at the end of this article.
It has been about 2 years that I seriously took to following my passion for Baking and Cake decorating. Having learnt all about different types of Cakes, decorating ideas and decorating mediums from the different masters of the trade, I finally settled for the fact that I would concentrate on Making and Decorating Wedding Cakes. I have made all types of Wedding Cakes, from Chandelier Wedding Cakes to Multi-stack life size cakes and the likes and have enjoyed every moment of it.
I do not believe in "competitions" because I believe that every Cake artist is a winner in his/her own right. I have been blessed with a very supportive family who understands my passion and eggs me on to create and follow my passion.
I was inspired by these lines from my husband – "Blessed are those who Dream Dreams and are willing to pay any price for them to come true".
I do upload my work on various BAKE/CAKE forums on Social Media and appreciate and feel a sense of achievement and Pride when my work is appreciated and liked by the greats of the Baking community while I get to learn and appreciate the works of the Greats. I have also been a part of various collaborations in the past and have enjoyed and learned at every step and point. I have had the privilege of having my work featured in the prestigious cake magazine "Sugar Magazine" and a tutorial being published in "Cake Masters Magazine". I was also part of the Kolkata Cake Festival wherein I was awarded the Award for Excellence.
DETAILS ABOUT THE CREATION
At the onset, I would like to thank you for the privilege of letting me participate in this Incredible Collaboration which showcases the Immense Beauty of your Country. The fact that so many renowned Baking and Cake Artists have signed up to participate in this collaboration is worthy enough to rejoice.
I had an idea of what I wanted to make when I enrolled for the Collaboration and my chosen field was Architecture. In my creation, I have not actually imitated any Monuments/Buildings from your country, rather I took a part of the essence, the design, the integral part of the culture of Architecture of your country and tried to create a work of Art incorporating the same. I hope I have done justice to the same.
This Piece of Art is inspired by the Islamic art that is in focus in the architecture. The intricate and elaborate panel work on stone and marble, the magnificent arches and the intricate gateways is what I am trying to capture and portray in this piece. The whole thing is made on 04 hexagon shaped, fondant covered cakes with intricately piped Royal Icing panels covering the entire surface areas on the sides. The borders are done with Pastillage. The Top is adorned by a Royal Icing Gazebo.
Connect with Seema Bagaria's venture OPEN WORLD on
Facebook