Sadaf Naz of HerGround
by Zainab Nasir
(Karachi)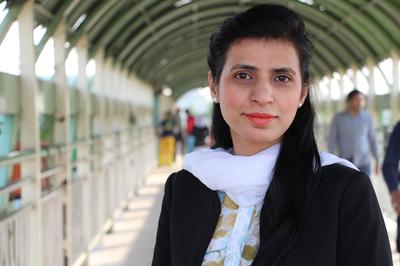 Sadaf Naz
HerGround is an online innovative venture providing health care services for women during their menstrual cycle. Orders can be placed online for delivery as per their time and schedule. Delivering in Lahore at the moment.

Venture: HerGround
Founder: Sadaf Naz
Location: Okara/Lahore, Pakistan

Women's Hygeine Solutions by HerGround - Interview
Q. What drives you? (What makes you so passionate about your work)
A. At the age of 13, I faced periods for the first time in my life and I was unaware that what was happening with me. I didn't tell anyone about this for all the day and I was frightened that I have got cancer and I'll die from this. Then when at the end of that day I told my mother about it, I came to know that this is a natural process called periods and there is nothing to worry about. That day I thought that why I wasn't told about this by anyone around me and why don't the people discuss it as this is going to happen with every girl? I never got the answer to these questions.
When as a pharmacist I joined the Pharmaceutical industry I was surprised that people who even belong to this industry are reluctant to talk about this. Access to sanitary pads is a problem for every woman especially when you aren't at home. The only channel to buy sanitary pads is the retail shops which are not optimized for women. Thus the experience of buying sanitary pads is quite frustrating for them. Most of the males operate the retail shops and whenever a woman comes to buy sanitary pads from a regular shop, she feels shy and reluctant because of the taboos associated with periods in our society. From the moment of picking sanitary pads from a shelf, putting it into a brown bag, taking it to the counter operated by a male, a woman's confidence shakes so many times that it feels like she is buying something illegal or unethical.
So, I decided to quit my job and build an online platform (HerGround) to provide health services for women. Starting with a monthly supply of feminine hygiene products in Lahore only. You can choose your dates, delivery time and desired package from HERGOUND's website.
Q. How did you get here and how long have you been in this profession (or been doing what you do)?
A. I always considered myself curious about women's health. I believed that Allah has created me to do some unique work in this world. So, I started this journey of mine a month back and delivered 107 Her boxes in the different areas of Lahore.
Q. What has been your vision and what do you most love about your work?
A. My vision is to provide health care services for women during menstrual cycle. So the women can live healthy and active life. "I believe if a woman is healthy so is the nation."
The thing I love most about HerGround is that it's related to female hygiene. Every day, you get to learn and experience new challenges which make me more passionate and stronger.
Q. What do you think is your biggest achievement throughout your professional journey?
A. There isn't any right now, I just started it a month ago. My biggest achievement would be when I will make my own manufacturing unit of Sanitary Pads. But I consider happy clients are indeed a good achievement.
Q. What are your current projects and what do you plan on doing in the near future?
A. My Current project is to place Vending machines in different universities at girls' washrooms for emergency usage.
In Future, my plan is to make my own manufacturing unit of Sanitary pads in Pakistan.
Q. A word of advice you would like to pass on to other women struggling with their start-ups?
A. Being confident and believing in your own self-worth is necessary to achieve your potential.