Ralli Patchwork Quilts
Ralli Patchwork Quilts of Sindh
Ralli patchwork quilts of Sindh are made by women of the region as cottage industry. This, like Ajrak, is one of the traditional crafts of Sindh and are found in every house. These are presented as more valuable gifts. 
There are several types of designs that are used for this craft which are broadly applique, patchwork and embroidered pieces. each design and pattern tells a story based on the segment of the region that it depicts.
Ralli or patchwork quilts are actually quite a global phenomenon as there are various kinds of patchwork that are made in UK and EU as well.
Ralli Patchwork Quilts - Geometric Patterns, Vibrant Colors and Designs
These lovely art work, very much like the European patchwork quilts,  are a delight for the eyes. Beautiful patterns developed out of small color coordinated or even random pieces of cloth, come to life in an exquisite piece of hand-made wonder.
Most of the workers in this field are women from rural and low income urban areas. The women entrepreneurs provide them with designs and material to work from the house and earn a decent living.
For those not from the culture of ralli makers, rallis are a way to help us understand more of their lives, thoughts and creativity. In addition to creating beautiful designs with colors and shapes, they have developed a textile craft with universal appeal touching the senses of those far beyond their community and culture.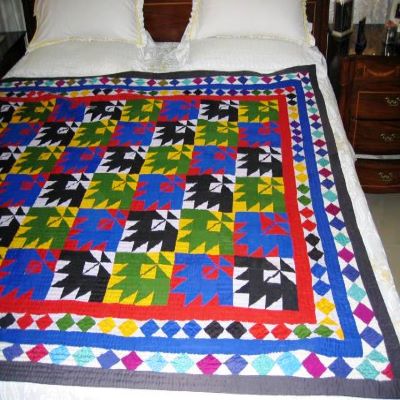 Ralli Geometric Design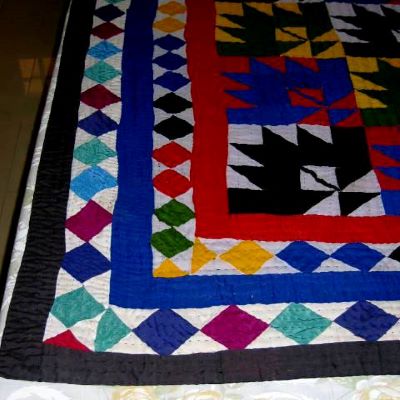 Ralli Geometric Design Border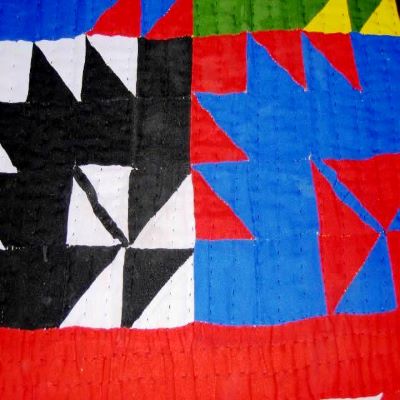 Ralli Geometric Close Up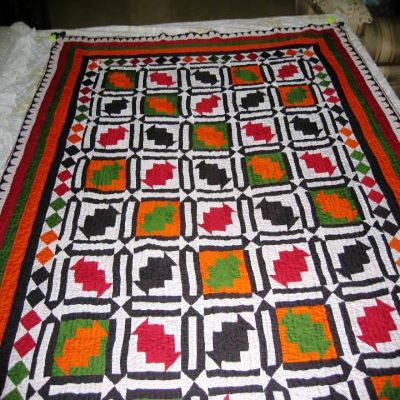 Ralli Pattern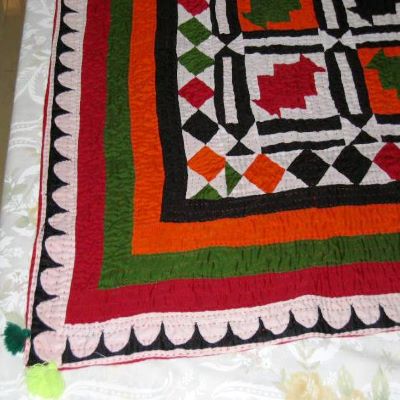 Ralli Pattern Border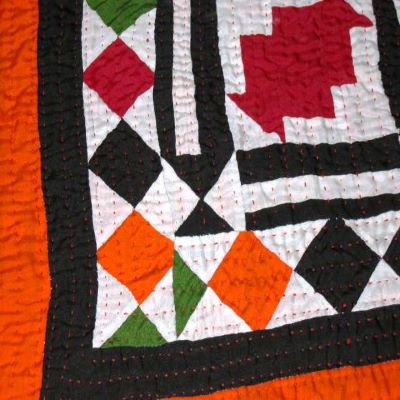 Ralli Border Close up
Ralli Patchwork Quilts - recycling of waste fabric
Preparing quilts and sheets in this manner helps in recycling of waste fabric and from used garments. On the underside plain fabric or even Ajrak is used to give a strong base for the quilt or the sheet. There are several types of designs that are used for this craft which are broadly applique, patchwork and embroidered pieces.

Applique work is done in patterns of geometric or floral designs with pieces of fabric and these designs are usually learnt from generation to generation. There are no written diagrams but from practice alone these artworks are created. For patchwork, small pieces of colored fabric are cut out and stitched on to each other thereby making a full length, again in patterns that are in the minds of the artisans.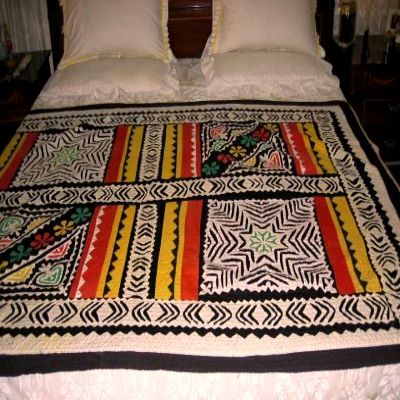 Ralli Multi Pattern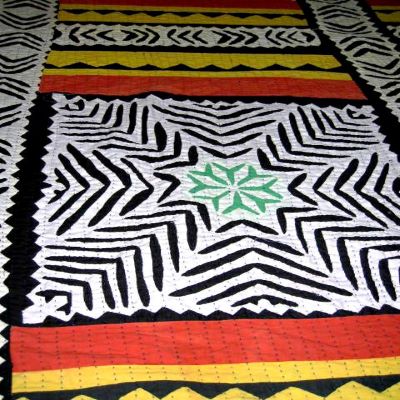 Ralli Multi Pattern-Block 1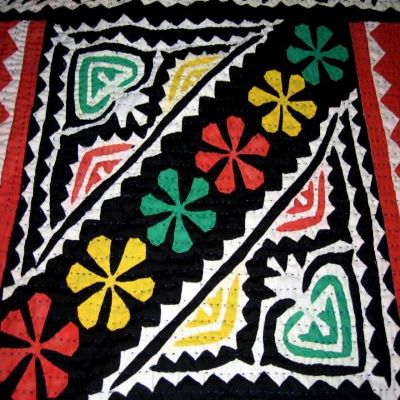 Ralli Multi Pattern-Block 2
Ralli Patchwork Quilt - Festive Look
For occasions like weddings and for trousseaux, ralli is made with golden and/or silver thread work on satin or velvet pieces giving the whole piece a more festive look and style. 
Reviewing a ralli gives ideas about the life and community of the woman who made it. If an old shawl is stitched as the back fabric it denotes that her background is that of an agriculture group, similarly, certain colors identify a specific community and new cloth, sequins, beads and tassels indicate a ralli made for an important occasion such as a wedding. 

Embroidered quilts are made with whole lengths of fabric or with patchwork and then embroidery  is done to join the pieces in a more exquisite design.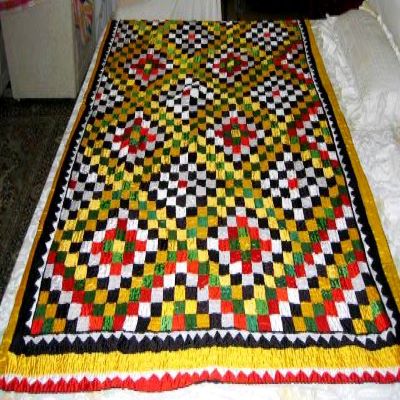 Ralli Satin & Cotton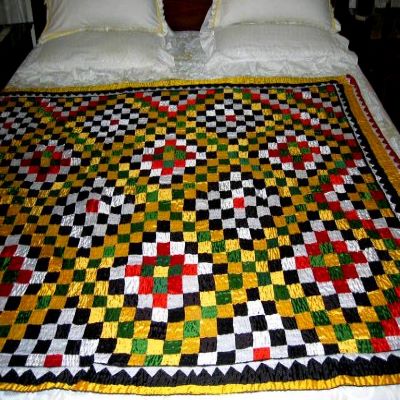 Ralli Satin & Cotton Spread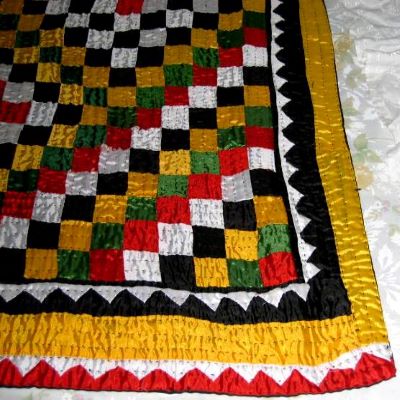 Ralli Satin & Cotton Close Up
Ralli art is a craft that is practiced in various parts of Sindh, Baluchistan, and in India in Gujrat and Rajasthan. In the desert areas, colors are always more vibrant and rich. The story that each ralli tells  encompasses its regional communities and folklore. 
An interesting article regarding research work Rallis or Rillis on the online store of Indus Crafts is a good read for the background on this craft. 
---
Ralli Patchwork Quilts