Pablo Jáñez (Spectacular Pakistan)
by Faiza Sherjeel
(Lahore, Pakistan)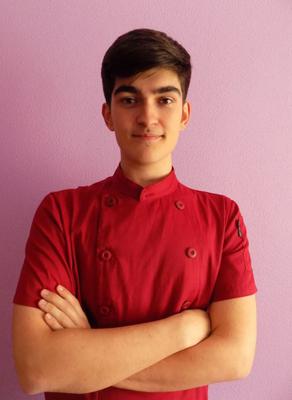 Pablo Janez
Pablo Jáñez from Spain - Spectacular Pakistan: An International Sugar Art Collaboration hosted by Faiza Sherjeel.

Event: Spectacular Pakistan
Participant: Pablo Jáñez
Venture: My Funny Cookie
Location: Spain

Pablo Jáñez from Spain - Interview
Hello, my name is Pablo Jáñez, I'm a boy from Valladolid, a city in the north of Spain. Here I started cooking with my father and making typical desserts with my grandmother and my aunt. Meanwhile I was studying at school. In 2016, I went to the high school and asked myself if I wanted to study kitchen direction, but I decided to study a high school.
This year I finished high school and next year I am studying food Sciences and culinary arts at Alicante, a city in the southeast of Spain.
I have always loved bakery and I always knew that I wanted to dedicate myself to it. Therefore I did a lot of courses in my city and some other spanish cities. One of them, was taught by Isabel Tamargo of Tartas Imposibles, where I learnt to make and use homemade modeling chocolate wich I have been using in my cakes since that moment.
Isabel Tamargo is a great artist and teacher. She has always helped me with clearing any doubts even before taking her masterclass beacause I had participated in the collaborations she had made, such as: Sweet summer, Animal rights and Cakeflix.
Thanks to her and to the collaborations I have learned a lot and I have also met many people. Due to this I have been able to participate in more collaborations like studio ghibli or Sugar Myths and Fantasies getting a Top 3 in cakes decor.
I participated in CPC spoonful of sugar, CPC Christmas and Century of fashion too. With these collaborations I started to participate in the CPC group(Cake Page Circule), which was created by Julia Reed. In this there are great bakers from around the world.
Anyone can participate in collaborations or learn with tutorials, they can also do joining in Bakerswood page created by María Mercedes González Lagarma and Raquel García Martínez two magnificent professionals. In this group I participated in collaborations like studio ghibli, Zodiac challenge and Fantastic Creatures Challenge.
With all this I decided that I wanted to teach everything I had learned and create a blog in 2016
myfunnycookie
And then I decided to create "My funny cookie" my future enterprise and it is the name that I use on socialmedia to publish my cakes.
And this is my dream, to be able to live the bakery or the kitchen, to teach everything I know and to be able to meet fantastic people like the one I've been meeting up.
Inspiration for the collaboration: Pakistani Bride Dress
Connect with Pablo Jáñez's venture My Funny Cookie on his
Facebook Page
And on
Instagram Page