Nukhet Dora (Spectacular Pakistan)
by Faiza Sherjeel
(Lahore, Pakistan)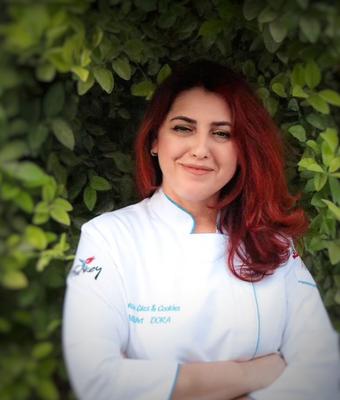 Nukhet Dora of Nuku's Cakes & Cookies from Turkey
Nukhet Dora from Turkey - Spectacular Pakistan: An International Sugar Art Collaboration hosted by Faiza Sherjeel.

Event: Spectacular Pakistan
Participant: Nukhet Dora
Venture: Nuku's Cakes & Cookies
Location: Turkey

Nukhet Dora from Turkey - Interview
Nukhet Dora is a Cake Designer from Turkey. Everything started as a hobby for her…Essentially she was educated as a civil engineer and worked in this field for several years.
Meanwhile, she continued to improve herself as a cake designer by practicing the recipies from international literatures along with several local & international courses/workshops. Finally she noticed that all she could think about was baking and decorating cake!
Hence, in 2009, she decided to turn her passion into her profession and started her own business as a botuqie cake designer under Nuku's Cakes & Cookies trademark in Dubai. As she moved to Doha in 2011, she still kept making delicious and beautiful cakes and improving her techniques in Qatar.
Despite being a botuqiue cake designer she commenced to deliver baking and decorating classes at her own studio due to enormous demand from her customers.
As she was also in collobration with other local/international cake desginers since begining, she kept improving her artistic vision by getting impression from their designs. She continues following the new techniques and materials to keep pace with the global sugar art. Her motto is always to staify her customer by delivering deliciliuos, impressive and neat cakes.
Inspiration:
'I generally deliver cakes to make my customers dreams comes true. Therefore, I have made lots of children birthday, special celebration, custom made, etc cakes as of now. This time, I have decided to challenge myself and prepare a bust cake for the first time. I have searched for an inspiration photo on the internet and when I saw the photo of the old baloch singer, a man in traditional clothes from Balochistan, I was impressed with all the colours and rich cultural heritage. Hence, I have choosen this for my new study.
My show piece is named as " Old Baloch Singer" and I created his body from real chocolate cake covered with sugar paste. His head was from styrofoam and modelling chocolate. Also I used rice crispy treats, sugar paste, airbrush and edible paints.
I hope you all enjoy my piece as much as I did creating him.'
Connect with Nukhet Dors's venture Nuku's Cakes & Cookies on
Facebook
or
Instagram
or on their Website