Natural Skincare Products by Mana
by Zeenat Umer
(Lahore)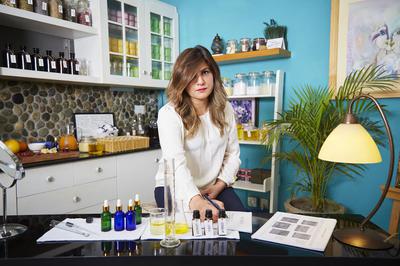 MANA - Owner of Mana Beauty & Spirit
Mana Beauty & Spirit is a venture offering natural skincare products ranging from make-up to body and haircare in a variety of herbal and natural product ranges for all ages and skin types.

Venture: Mana Beauty & Spirit
Owners: MANA - Cosmetic Designer
Location: Lahore, Pakistan


Natural Skincare Products by MANA-Interview
Q. What drives you? What makes you so passionate about your work?
A.There are unlimited possibilities in the field of cosmetic science and the capacity to introduce healing through natural products excites me. I studied Aromatherapy and Product making to fulfil my passion while working closely with top Beauty Brands in UK. I was always fascinated by Natural herbs and Essential Oils and also by the scientific formulations and how they all affected humans, not just externally but also internally.
`
Q. How did you get here and how long have you been in this profession (or been doing what you do)?
A. I started at a very early age and did my formal studies in Hair, Beauty Aromatherapy, ACU point healing, Reiki, Product making from London. I had the pleasure of working with some very famous hair and beauty brands and gained indispensable knowledge and skills while working alongside them, About 15 years back I started my own Hair and Beauty business in Midlands and developed, using the purest ingredients, hand blended beauty products and won several awards for the Best Organic and Natural Balm making.
Q. What has been your vision and what do you most love about your work?
A. I have always been focused on ways to improve skin and hair by means of herbal natural remedies, I see a lot of damage caused by either wrong treatments or just lifestyle or health issues, and I love to see the rewards when I see someone getting healthier skin and getting happier and confident. You wear your skin and hair everyday so one must look after it in the best way possible.
Q. What do you think is your biggest achievement throughout your professional journey?
A. To me, moving from Professional Therapy using different products to implementing my knowledge in making my own products gave me immense pleasure and a sense of great achievement.
Q. What are your current projects and what do you plan on doing in the near future?
A. I am keenly working in Pakistan now to further study skin and hair in order to find more ways to improve my formulations to suit all skin types. I am focusing on changing the vision of overnight transformation through extreme topical medicine with chemicals and promoting awareness that results that are gradual and with no side effects are far better than quick fixes with worse outcomes.
Q. A word of advice you would like to pass on to other women struggling with their start-ups?
A. Never ever give up on your dream and follow what you love most. Make a difference, as I believe everyone is a genius once they choose what they love most. Our bad experiences merely teach us to stay strong and helping others gives us the true sense of achievement and peace from within.
Connect with Mana Beauty Spirit on
Facebook
,
Instagram
, or on their website at
Mana Beauty and Spirit