Nageen Marfani
by Zainab Nasir
(Karachi)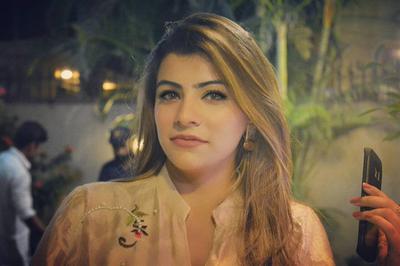 Nageen Marfani
Nageen Marfani – Vogue Amour


Your city: Proud Karachi'ite

What drives you?(What makes you so passionate about your work)
Fashion, entertainment, beauty and food have always been my passion so it is just my crazy interest which makes me so much passionate about my work because hey, the best work is the one which revolves around your interests and passion. It just doesn't let me get bored.

How did you get here and how long have you been in this profession (or been doing what you do)?
I am a Google certified blogger and I have been writing for Huffington Post on and off. I started Vogue Amour more than a year ago in April 2016 and it was the best decision. Though, I have had sleepless nights working tirelessly on curating and posting content, optimizing the website and social media platforms and engaging the fans and followers, it has been totally worth it. I am in love with my work.

What has been your vision and what do you most love about your work?
My main purpose of launching Vogue Amour was to bridge the gap between brands and customers. Other than that, I wanted to create an interesting and unique fashion, beauty, entertainment and food portal for all the readers based in Pakistan or abroad who are interested in knowing more about what's happening in the country.

What do you think is your biggest achievement throughout your professional journey?
The biggest achievement in any profession is to deliver what makes you prominent and brings back a lot of love and appreciation from people and I am glad Vogue Amour was able to do that. Talking about Vogue Amour's other achievements which are reaching our national stars such as Shahid Khan Afridi and also reaching Bollywood and Hollywood famous celebrities such as Shah Rukh Khan and Fifty shades of grey team for interviews. Other than that Vogue Amour was also featured in many local publications as one of the most trusted blogs.

What are your current projects and what do you plan on doing in the near future?
Right now, I have partnered with few entrepreneurs and exhibition organizers and promoting their exhibitions and events. Other than that, I am also bringing up a highly exciting masterclass with a famous celebrity makeup artist for which all the seats were booked within five minutes through the platform of Vogue Amour. Publishing news, updates, gossips and much more are a part of regular routine which our fans and followers get through us on our website and social media platforms.

A word of advice you would like to pass on to other women struggling with their start-ups?
Everything in the beginning seems to be difficult and taking the first step is always the hardest part but once you get out of your comfort zone to try and achieve something which you desire, trust me, nothing can stop you. Life comes with a lot of ups and downs so every start-up is bound to go through the same turbulence but always remember that there is always light at the end of the tunnel no matter how dark the journey remains. Just never give up! Along with that the biggest factors which leads you to success is your firm belief in the Super Power and clean pure intentions.


Join in and write your own page! It's easy to do. How? Simply click here to return to Add A Profile.