Maria Teresa Perez (Spectacular Pakistan)
by Faiza Sherjeel
(Lahore, Pakistan)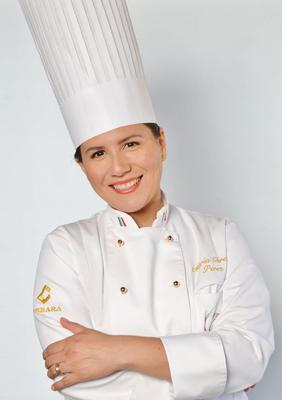 Maria Teresa From Italy
Maria Teresa Perez from Italy (Spectacular Pakistan: An International Sugar Art Collaboration hosted by Faiza Sherjeel)

Event: Spectacular Pakistan
Participant: Maria Teresa Perez
Venture: Maria Teresa Perez Cakes
Location:Padua,Italy


Maria Teresa Perez from Italy - Interview
Inspiration: Camel Skin Lamps
'Born between the cakes', I started working when I was very young making artistic cakes in our family bakery, from there I learned the basics of cake design. I have more than 25 years of experience as cake decorator, I have worked with some magazines like:
Cake Design Magazine (Italy) & PrettyWittyCakes(UK).
Currently, thanks to my big experience in the field of cake design I work as a freelance consultant for several industries in the development of new products. As a cake design teacher, do demonstrations at various shows and events at international level, organize workshops and work with some renowned bakerys and 5 stars restaurant in Padua, Italy.
I have won several competitions, the most important awards are:
* BEST CAKE FOR EXHIBITION IN THE WORLD & BEST AESTHETICS (worldchampionshipof cakedesign Milan 2015)
* SILVER MEDAL at the worldchampionshipof of cake design Milan 2015
* GOLDEN MEDAL championship of cake design(Italy) 2014
* SILVER MEDAL at The cake International Birmingham (UK) 2014
* 2nd PLACE Winx Modellin competition, Milan (Italy) 2014
* 3rd Place Shoe Bakery Competition (worlwide) 2014
* RUNNER UP Best people modelling competition(worlwide) 2014
* GOLDEN MEDAL The cake show, Bologna (Italy) 2013
* 1st PLACE at Cakes by Oscar, Vicenza (Italy) 2013
"SWEET LIGHTS"
My inspiration is the camel skin lamps of Pakistan
I made a two tiers cake, as topper one lamp as protagonist, the colors are mauve and camel for the cake, I recreated a geometric design at the first tier, nuanced with cooper and gold colors, and some flowers; for the lamp I recreated and hand painted floral design, inside I put a small led light.
Connect with her venture Maria Teresa Perez Cakes on
Facebook