Linda Hackett (Spectacular Pakistan 2019)
by Faiza Sherjeel
(Lahore, Pakistan)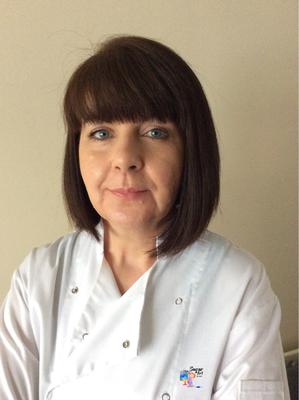 Linda Hackett from Ireland
Linda Hackett from Ireland (Spectacular Pakistan: An International Sugar Art Collaboration 2019 hosted by Faiza Sherjeel)

Event: Spectacular Pakistan
Participant: Linda Hackett
Venture: Sugar Art by Linda
Location: Dublin, Ireland

Linda Hackett from Ireland - Interview
My name is Linda Hackett and I live in Dublin, Ireland with my husband, 2 daughters and 3 cats and bearded dragons.
I have always been interested in all mediums of art but before my Sugar Craft journey my passion was creating costume jewelry. I decided to find a course on how to work with Fimo clay for creating clay beads and pendants but there were no courses available.
Then I spotted an advertisement for sugarcraft evening classes in our local school and thought that the same techniques could be used for both mediums. My teacher at the time encouraged me to do the PME Professional Diploma courses in Sugar Craft, Sugar Flowers and Royal Icing in which I completed with success achieving my Masters in April 2015.
For the past couple of years I have taught sugar-craft classes to beginners and Transition Year Students as part of the TY curriculum. Recently I have been approached about teaching classes privately which is exciting. My main goal for this year is to get my cake topper business up and running. While designing and creating cakes for family and friends; my goal is to design my own range of custom cake toppers.
Participation in Collaborations/Challenges has given me the opportunity to create pieces that normally I wouldn't have attempted while improving my skills along the way. I participated in my first collaboration about 12 months ago and can't believe how much I loved the challenge. Since then I have participated in several more collaborations. I enjoy taking part in new challenges and learning new techniques while creating pieces that I normally wouldn't get the opportunity to do.
I have already participated in Spectacular Pakistan Collaboration in 2018 and now for "Spectacular Pakistan: An International Sugar Art Collaboration 2019" I chose Pakistani special footwear "Khussa" as my inspiration.
You can approach me or see my venture Sugar Art by Linda on
Facebook