Legal Professionals  
Women Advocates of Pakistan
Legal professional women in Pakistan have been around since the early 50's, in various branches of the field.
The term, for a long time assumed reference to a 'man'. The profession has been a male dominated one, however, serious female practitioners have made their mark in the field.

The career demands dedication and nerves and a constant penchant for knowledge to keep abreast with the latest laws and regulations and the interpretation thereof for the cases in hand. The intricate world of legal knowledge and applications is no field for the faint of heart. Nevertheless, there are hundreds of ladies in the profession and doing well despite all the challenges.
Probably not known to many - the first lady to be enrolled with the Supreme Court, in the Indo-Pak  sub-continent and maybe the whole of Asia, is from Pakistan. She was enrolled in 1966 as an Advocate of the Supreme Court of Pakistan.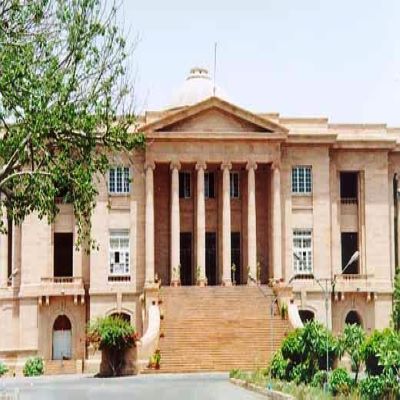 Sindh High Court

For legal professionals, the required education for enrollment with the Bar Council of each province, is a post-graduate Degree from a reputable Law College affiliated with the University. As Pakistan follows the English Legal System, a number of Pakistanis opt for Bar-at-Law and return from UK as Barristers.
The LL.B degree program is a 3-year academic program. LL.B stands for Legum Law Baccalaureate or simply Bachelor of Laws, though it is a post-graduate degree with 5 years of college after school.
The successful degree holders are required to go into pupillage with a senior and appear along with him/her for a specified number of cases. The details are submitted with the concerned Bar Council, where the interview/viva is conducted and the candidate is either accepted as members or requested to improve on their practitioners' skills.
In Sindh there is Karachi Bar Association for the Lower Courts and Sindh Bar Council enrollment for the High Court practice. For Supreme Court practice enrollment with Pakistan Bar Council is required.
Similarly for other provinces i.e., Baluchistan, Punjab and NWFP and the major cities therein, the relevant governing bodies are responsible for enrollments.
The fields of expertise for women in this profession are not limited - though with certain personal preferences - as we find that one of the finest and senior most criminal and constitutional practitioners of the country, is a female.
Corporate law and related matters are also one of the most opted fields. Family law is another favored field.
Although the option to have an independent practice as against a position as an Associate rests entirely on the concerned person, most of the women counsels join larger firms as associates.

Legal Professionals