Khamphet Che-Bui (Spectacular Pakistan)
by Faiza Sherjeel
(Lahore, Pakistan)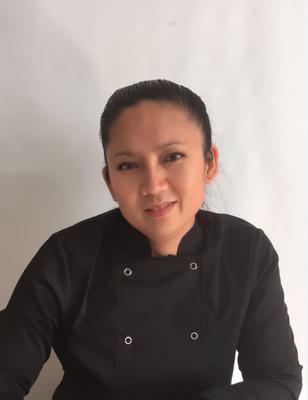 Khamphet Che Bui - Owner of Sweet Side of Cakes
Khamphet Che-Bui from Switzerland (Spectacular Pakistan: An International Sugar Art Collaboration hosted by Faiza Sherjeel)

Event: Spectacular Pakistan
Participant: Khamphet Che-Bui
Venture: Sweet Side of Cakes
Location: St.Gallen, Switzerland


Khamphet Che-Bui from Switzerland - Interview
Khamphet is married with 5 kids and a multi award winning hobby, as a - cake decorator - living in St. Gallen, Switzerland.
She started to decorate cakes back in November 2013 as she wanted to make, for one of her kids, a birthday cake which should taste good and also look beautiful. Back then she even didn't know what's fondant, gumpaste, ganache, modeling chocolate or tylose and how to work with them and handle them.
So, Google was her only friend! She has learnt by doing and also by watching YouTube videos. To improve her skill she always pushes herself out of her comfort zone and tries new techniques. Errors, perseverance and passion lead to success.
In her young age she never liked being in the kitchen. She didn't like to cook or bake and found always an excuse to stay away from the kitchen. It was not hard since she was the only girl with 7 brothers. So her brothers voluntarily helped their mom in the kitchen. And later she was fortunate enough to find her better half who loves to cook and bake.
Since her first cake made for her son, she was hooked with cake decorating and has learnt by herself how to bake cakes and make fillings. But she loves decorating the most because she has always adored arts and handcrafting.
In her cake adventure she has made simple cakes, tiered cakes, sculpted cakes, gravity defying cakes, 3D cakes, cupcakes, cakepops, cookies, sugar and wafer paper flowers and figurines. Her favourites are square cakes and sculpted 3D car cakes but she can't and doesn't want to focus just on one style, like most cake artists, because she loves the diversity of the cake world. For that reason she also has been in many collaborations and still will be in some futures ones.
Collaborations give her the opportunities to make friends and to improve her skills. The opportunities to come out of her comfort zone and try/develop new techniques. In 2017 she had been in more than 40 international collaborations. Oh yeah, it was a crazy year for her!! 2017 was also the year she dared to compete in cake shows for the first time. She also dared to compete at Cake International in Birmingham, the world's largest cake show, and won gold and 3rd place in category. To date she has competed in 5 cake shows with 7 pieces and won 3 gold, 1 silver, 2 bronze and 1 merit and 1 x 2nd place, 2 x 3rd place in category.
In the beginning of her journey she told one of her cake friends that she would love to make beautiful and elegant tiered cakes and her friend didn't believe that she could do it and just smiled. Responses like that give her the determination to achieve her goals. She has never given up. She learns from her failures and she focuses on what makes her happy. She's also fortunate to have beautiful cake friends around the world who have faith in her and encourage her and give her opportunities.
Her cake journey has changed since her first decorated cake and it has become her passion. Her works have been featured in different Magazines such as Cake Central, Wedding Cakes & Sugar Flowers, Party Cakes & Bakes, Cakes & Sugarcraft Magazine, Cake Masters, Gâteaux Design Magazine, Sugar Magazine and on many blogs and also on
Satin Ice Website
.
Connect with Khamphet Che-Bui's venture Sweet Side of Cakes on
Facebook
or
Instagram
and on her website on
Sweet Side of Cakes