Khaddi : An Absolute Fabric Heaven On Earth
by Obaid Atique
(Karachi)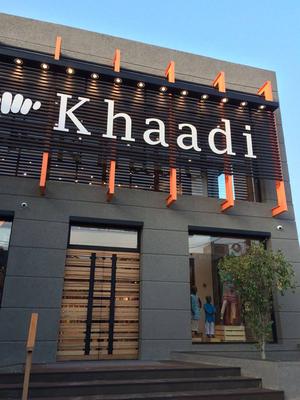 Back in 90's Khaadi began its journey with the goal to revive hand woven fabric tradition by giving it a new taste of luxury prêt. The charming range of colors, patterns, textures, and vogues are the classic allure of Khaadi. The exceptional quality of cotton and silk fabric promptly earned a niche corner in the hearts of customers. Since Khaadi was launched till date, they never settled on quality and artistic textile prints.

The classic range makes Khaadi irreplaceable, from the struggling start to a leading brand expansion in products and number of chain outlets in Pakistan. Khaddi is offering an extraordinary chain of fabric materials; the range is classified in diverse divisions. The unstitched lawn fabrics, elegant prêt wear, Khaddi Khaas, women lawn, menswear, accessories, and a dedicated slice for home essentials. The intricate hand-woven fabric, vigorous color vibes, and rapturous prints are metonyms of Khaddi.

The brand which was started as a small enterprise with a few shafts has now risen ten-fold today. It has its own production equipment with a team of skilled weavers; khaddi is operating with proficient artisans designing a wide collection of vivid goods. Khaddi is operating an in-house dyeing section, where the unbleached greige thread is dyed. The brand aim is to ensure that every shore meets the high standard of excellence that is the trademark of Khaadi.

Khaddi outlets exclusively offer in-house stitching team for the prompt assistance. They are not only serving the customers but also assist the designers in generating distinct aesthetic daily wear patterns. Khaddi design studio, loaded with adequate and capable designers stays up-to-date of prevailing fashion trends of nationally and internationally. These factors are shaping Khaadi the only brand which is specialized in hand-woven clothes, garments, home products, and accessories.