Katherine Perez (Spectacular Pakistan)
by Faiza Sherjeel
(Lahore, Pakistan)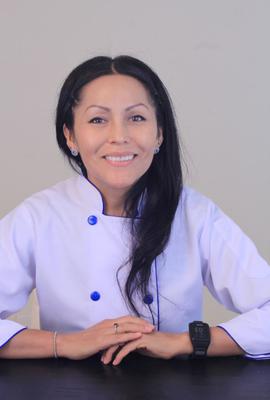 Katherine Perez from Peru
Spectacular Pakistan: An International Sugar Art Collaboration hosted by Faiza Sherjeel

Event: Spectacular Pakistan
Participant: Katherina Perez
Venture: Super Fun Cakes and More
Location: Peru

Katherine Perez from Peru Spectacular Pakistan: An International Sugar Art Collaboration - Interview
My name is Katherina Perez, married, two kids. Originally from Peru currently based between Dhahran, Saudi Arabia and Almere, Netherlands.
I started baking in 2014 in the Netherlands for family and friends. My starting point as Cake Decorator was in 2015. Since then I have participated in many collaborations. Last year I participated in many collaborations. In 2016, I got my first Gold prize at Cake & Bake Experience -The Netherlands.
Currently, I am more dedicated to teaching, blogging, participating in collaborations and eventually making some special cakes.
Thanks to Faiza for this incredible opportunity and for letting me participate in her collaboration. I would also like to thank all those people who, in one way or another, have always supported me in all my projects.
I am a Veterinarian and I love animals, specially dogs and cows! I could not dedicate myself to my profession for many reasons, among them the homologation of my title in Italy... nevertheless I believe that everything in life happens for some reason and thanks to that I could not be here now writing my experience in this beautiful sweet world.
In 2013, before I started making cakes, I was dedicated to making pinatas using recyclable cardboard. This hobby soon became an endeavor because I started selling giant personalized pinatas (90 cm up) ... my work with pinatas helped me a lot with the creative part, the construction part of the structure and the modeling part (that later I applied in my cake toppers), because I practically molded the cardboard by hand. Then, legalized my entrepreneurial activity at the same time I began to make birthday cakes for my kids... my friends and acquaintances began to order cakes ... at this point I have to admit that I had no idea how to use the fondant and I had not any instrument to model fondant ... anyway I made cakes with very basic decoration and at very low prices... in practice the clients paid only for the ingredients at the same time that I learned more and more... I only had a clear idea from the first cake that I made for a client ... the idea was:
1. DO MY BEST, ALWAYS
2. THE CAKE HAS TO BE DELICIOUS
3. THE DECORATION HAS TO CONVINCE ME FIRST FROM THE BEGINNING
4. NEVER STAY WITH A TASTE THAT I COULD HAVE DONE MORE AND I DID NOT DO IT.
Everything was fine, I learned new techniques, I learned to make my own fondant, I acquired more tools to model, I had more requests for cakes ... simultaneously I continued making pinatas ... this time I had included in my business, the piñata with the same cake topper for the cake ... for example, a Mickey Mouse piñata with a Mickey mouse cake topper... this new endeavor helped me a lot to focus, dedicate and improve my modelling skills using fondant ... until that... In 2015 my husband told me that we had to move to Saudi Arabia ... of course I dared to see what was going on there and always with optimism, curiosity and eager to see new opportunities ... so once I was there I began to show my work and quickly I had orders of cakes …my pinatas were being relegated by the cakes. In 2016 I began to participate in many collaborations, I still remember my first collaboration that was organized by Zawadi Parizek, Acts of Green.
From this collaboration I learned a lot, I met on-line a lot of people, I was impressed by everything that could be done with fondant, modelling chocolate and other mediums... I was completely in love with this sweet world that allowed me to let my imagination fly and that helped me to keep my mind busy. I was very motivated to learn more and therefore I took courses with Nathasja Flapper and Dirk Luchtmeijer. With them I learned a lot and I am very grateful for all their knowledge and friendship. In 2017, I got my first Gold prize at Cake & Bake Experience -The Netherlands. Also, I continued with more collaborations and I started teaching 3d cakes, Bake & Decorating and Custom cake toppers masterclasses in Saudi Arabia and The Netherlands.
In the middle of that same year, I began to create my own line of dolls cake toppers with the particularity that they are personalized and that they are at least 40 cm high. With that new goal in mind I had many failures in the search of a good armature that supports the weight of the figure... until I finally achieve it ... I made my first doll that got many positive comments and many people interested in learning my technique ... so from that moment I began to focus on creating more dolls for every occasion ... Currently, I'm still focused on my classes of giant dolls cake toppers made with fondant and lately I can do the same dolls with clay. Also, I continue blogging (through my 2 YouTube channels) and participating in collaborations and eventually with cakes where I have the option of making my own designs. My ambition for the future? I have no ambitions; my future is my present so I just live day by day…I have goals every day not only in the sugar art world…I like to learn in general in any area…I have to go to bed knowing that I have learned something…anything! My advices for new comers:
1. DO YOUR BEST, ALWAYS
2. THE CAKE HAS TO BE DELICIOUS
3. THE DECORATION HAS TO CONVINCE YOU FIRST FROM THE BEGINNING
4. NEVER STAY WITH A TASTE THAT YOU COULD HAVE DONE MORE AND YOU DID NOT DO IT
5. NEVER LOSE HUMILITY, BE HONEST AND BE GRATEFUL FOR EVERYTHING YOU RECEIVE IN YOUR LIFE (HEALTH, FOOD AND WORK…ETC)
Connect with Katherina Perez's venture Super Fun Cakes and Moreon
Facebook