Fatima Chandan (Spectacular Pakistan)
by Faiza Sherjeel
(Lahore, Pakistan)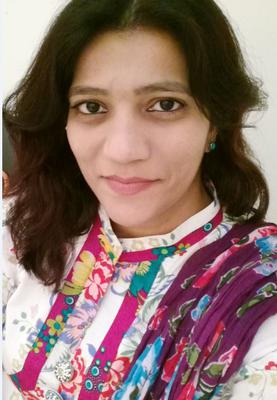 Fatima Chandan from India
Spectacular Pakistan: An International Sugar Art Collaboration hosted by Faiza Sherjeel

Event: Spectacular Pakistan
Participant: Fatima Chandan
Venture: The Cake's Icing
Location: India

Fatima Chandan from India Spectacular Pakistan: An International Sugar Art Collaboration - Interview
I am an ex-finance executive and a full time mom, who, like many of us, fell into the baking field just by chance. But soon I realized this is what I was meant to do for many years to come. Being a cake decorator is what satisfies my love for art and baking together; it gives me the level of job satisfaction I had always expected in anything I ever did. I believe if every day I can make every cake with the same enthusiasm and excitement then I'm successfully placed in the right profession.
When I made my very first cake it was just to please my five year old, since we were new in the country I had no idea where I could find a good cake. But after that I got appreciation and motivation from friends and family and I kept researching the field and learning new skills.
Along the way I signed up for a few basic wilton courses, there I made a lot of new friends who taught me more than the course had to offer.
A few months later I was making cakes for friends and their kids and it kept becoming part of my being to the point where all my extra time and energy goes to hone my skills. I can proudly say I think, I sleep, I dream, I talk "Cakes".
I participated in couple of cake competitions of which I won one held by "Veena Azmanov" on her blog as 'Cake of the month'. And was a runner up in the one held by "Sugar" magazine in India. My cakes have been featured in "Sugar" a couple of times.
I keep participating in collabs to help me learn n practice new skills and learn new perspectives of senior artists.
I dream of starting my own commercial unit where my art and skills can reach a greater number of people. But that needs more time on learning a lot more, until then working from the comforts of my home is all I am going to do.
This is just a start for me and I have yet a long way to go to leave a mark in the industry, keeping my energies focused I hope I'll be there soon.
Spectacular Pakistan:
Pakistan is a great country with a very rich cultural heritage. I am an avid art lover, everything around me needs to be artistically appealing, and so I call my piece "For the Love of Art: Pakistan". My inspiration for my piece comes from the famous truck art which sets Pakistani trucks apart from anywhere else in the world, the gorgeous bridal jewelry, the national flower and the topi.
Hope you all like how I have compiled everything in a single edible art piece.
Connect with Fatima Chandan's venture The Cake's Icing on
Facebook
or
Instagram