Carolina Wachter (Spectacular Pakistan)
by Faiza Sherjeel
(Lahore, Pakistan)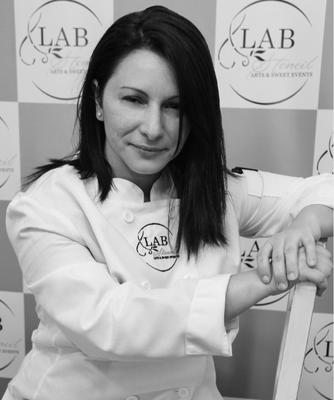 Carolina Watchter of Lab Stencils, Chile
Carolina Wachter from Chile (Spectacular Pakistan: An International Sugar Art Collaboration hosted by Faiza Sherjeel)

Event: Spectacular Pakistan
Participant: Carolina Wachter
Venture: Lab Stencil
Location: Chile


Carolina Wachter from Chile - Interview
Carolina Wachter is an industrial designer, after more than 12 years dedicated to the world of furniture design, discovers by accident the world of culinary stencils taking her to leave the career and dedicate herself completely to this matter. Her mind started to see them in every corner of her life, she considers herself as a stencil-lover. That same year starts to develop of her enterprise Lab Stencil Culinary Stencils, first Chilean enterprise dedicated to the manufacture and design of this product. A few months after it started the company already has exports to Spain, following Mexico, Ecuador, Costa Rica, Peru, Ireland and New England.
The sweet world had yet more surprises at hand, she fell in love with sugar flowers and starts to experiment with them on her own to further on dictate classes regularly in her country, adding to the enterprise this service. During the year 2016 is invited to Costa Rica to give classes in the Costa Rica University and in the Academy My Sweet Time belonging to her student and friend Gabriela Solis.
During the years 2015-2016 her company had great success. Was the first one in her country to program and organize courses with international professors. To date has introduced to her country a great number of first level artists such as Lori Hutchinson, Patricia Arribalzaga, Donatella Semallo, Carlos Lischetti, Sharon Wee. During the present year 2017 she already has programmed the visits of Karen Portaleo, Ornella de Simone, Aixa Zunino.
2016 was the year in which her stencil creations appeared in two books known internationally. "Fiestas Dulces" of Patricia Arribalzaga for whom she designs a special set of stencils for wedding cakes used in the front cover and in one of the projects of the book. "Animation in sugar Take 2" from Carlos Lischetti designing for him the stencil Cherry Blossom used in one of the projects of the book and handed over to the author legally and for lifetime.
She is actually starting to participate in various international sugarcraft collaborations. Animal Right hosted by Isabel Tamargo, Miths and fantasies hosted by Amber Adamson, Sweet Christmas collaboration Chile the first in her country. Nowadays she is organizing her first International collaboration Children's classic books Sweet Collaboration".
During the year 2016 her product line was increased creating now besides stencils her own line of cookie and flower cutters. At the end of 2016 she develops the production of special stencils for Caye Fahill Cake designer according to her desings.
Inspiration from my work
I am completely in love with the architecture of this beautiful country because of this my work is based mainly on architectural elements, color, and shapes that you find in these structures.
I think that one of the greatest symbols of Pakistan for me, that I am Chilean, is its strength in the use of color and its wonderful architecture that is unique in the world.
Connect with Carolina Wachter's venture Lab Stencil on
Facebook
and on their website on
Lab Stencil