Aymun Zafar
by Zainab Nasir
(Karachi)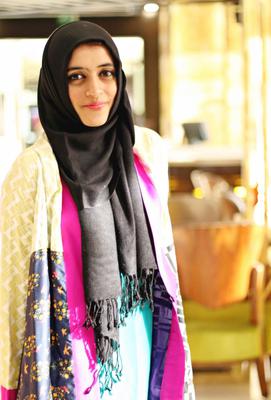 Aymun Zafar

Aymun Zafar of Aymunography
from Karachi, the face behind "Aymunography".

Aymunography is basically a food and food photography page where I share my clicks of the food that is mostly prepared by me hence some recipes are also shared on the page along with a link to my blog www.aymunography.wordpress.com

Along side food photography, I post about travel and my travel updates on my Instagram @aymunography.

My family has a food business background so I've been always into food and trying out new things.

My dad gets things home to get them approved by us and encourages us to experiment with new flavours and combinations. Traveling around different countries and having a chance to try new things has always been a great motivation to move forward and be inventive and creative in the field of food.

I always see things as if I'm seeing them through my lens. I love celebrating food and capturing the true essence of it doing it justice.

It's been almost 7-8 years I've been doing food photography and Alhamdulillah I've come a long way since the day I started with loads of encouragement from friends and family. It's been only a year that I've started my page and received loads of love and respect through it.

My biggest achievement so far is my recently launched book in collaboration with "Chatkhaar" which is now easily available online.

I'm planning on continuing food photography for myself and clients who appreciate my work along with other product photography for brands.

One thing that I would like to tell others who have been thinking to start a venture be it from home or outside is to love what you do and believe in what you do, the world is full of people who'll try their best to discourage and demotivate you but you need to follow your heart and Insha Allah, Allah will be there to help you out.