Arfa Karim Randhawa
by Sumera K
(Karachi)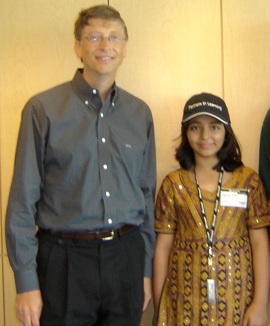 Arfa Karim with Bill Gates
A Tribute to the Nation's Pride
Arfa Karim Randhawa
2 February 1995 – 14 January 2012

One of the most refined brains of our times, a young girl who made headlines when she made her mark by becomeing the youngest Microsoft Certified Professional (MCP) in the world when she was just nine years, nine months and 11 days old in 2004.

The entire nation prayed as she struggled between life and death for almost a month and mourned profoundly when she passed away on January 12, 2012, at the tender age of 16. She will always be missed and everyday millions of prayers will be sent to her from a nation that saw with utmost pride and awe when she conquered a difficult task - that of becoming a Microsoft Certified Programmer - and achieved global fame.

She brought with her hope and confidence and left for us a lesson that the future generation will benefit from. She was a visionary and had the dream of building an institution for education of poor children to help them achieve excellence and fulfill their dreams. Her father in an interview on TV after her passing away said that he will not mourn but cherish her memory as she came in this world to give a message and that he will continue to follow her path and with God's help he will achieve it too.

At the age of 10, Arfa Karim was invited to visit the Microsoft Head Office in USA on an invitation to meet the Microsoft CEO, Bill Gates.

She was invited by Microsoft to be a part of the keynote session in the Tech-Ed Developers conference in Barcelona in November 2006. She was the only Pakistani among over 5,000 developers in that conference, themed "Get ahead of the game".

She was also the youngest recipient of the prestigeous Presidential Award - Pride of Performance. She was also awarded the Fatima Jinnah Gold Medal in Science and Technology.

The brilliant teenager passed away after complications resulting from an epileptic stroke. Pakistan media reports say that Karim went into a coma on December 22 after suffering an epileptic attack and cardiac arrest.

She was admitted for treatment at Combined Military Hospital in Lahore and was on life support at the Intensive Care Unit when she suffered a tracheotomy complication.

Condolences poured in from around the world. Microsoft's Founder Bill Gates, who offered to pay for Karim's treatment, told the family he was sad to learn of her death and for the loss of such a rare talent.

Her funeral prayers were attended by the Punjab Chief Minister Shahbaz Sharif along with a large number of military officers and civilians.Funeral prayers were offered on Sunday in Lahore before her body was taken to her native village Ram Dewali, Faisalabad for burial.

Punjab Chief Minister Shahbaz Sharif said "Arfa's centre of gravity was wanting to improve human resource development by focusing on education". He also thanked the CEO of Microsoft Corporation for his offer to help in her treatment.

She left us with a message about her philosophy of life, repeated many times by all who met her and saw or heard her interviews:

"If you want to do something big in your life, you must remember that shyness is only the mind," she said. "If you think shy, you act shy. If you think confident you act confident. Therefore never let shyness conquer your mind."

May Allah be with you Arfa and may you rest in peace....