Areej Jiwani of Scoop-o-Scrub
by Zeenat Umer
(Karachi)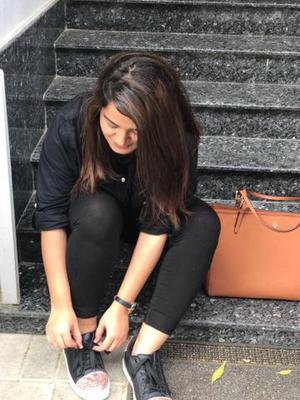 Areej Jiwani of Scoop-o-Scrub
Scoop-o-Scrub of Areej Jiwani offers a variety of organic health and beauty products of for all types of skin with funky names and beautiful packaging with a unique signature style.

Venture: Scoop-o-Scrub
Owner: Areej Jiwani
Location: Karachi, Pakistan


Organic Beauty Products by Scoop-o-Scrub of Areej Jiwani - Interview
Q. What drives you?
A. Making beauty products is in itself a very strong drive for a young girl. It is also something beneficial for the society as it involves health and I am proud of what I have been doing.
Q. How did you get here and how long have you been in this profession (or been doing what you do)?
A. My journey began with one single scrub that is now known as "sugar coated". I used to make it for my friend, Hiba and I, on a regular basis. Back in 2015, a girl asked for a scrub like that and I sent it to her as a sample. My very close client/sister asked for it and she was blown away by the results, which encouraged me to take it seriously. I still remember how I went to old city (Saddar) to get a few jars and took some orders.
Q. What has been your vision and what do you most love about your work?
A. My vision has always been to bring about a positive change for the people around me. I love it when people show me the results they got after using my products and that makes me satisfied that I am making people feel better about themselves.
Q. What do you think is your biggest achievement throughout your professional journey?
A. As people knew me already through Amor (another successful business) they were eager to try the scrub. Alhamdulillah all I heard from them was appreciation and prayers and that gave me a feeling of being an independent and successful woman at a young age.
Q. What are your current projects and what do you plan on doing in the near future?
A. When I started off with this page "Scoop O Scrub" I launched The Lip Scrub followed by others. Now we even have a mask on our menu I plan to keep on bringing new products, In'sha Allah.
Q. A word of advice you would like to pass on to other women struggling with their start-ups?
A. I'd advice women to encourage and appreciate young entrepreneurs and be independent.
Connect with Areej Jiwnai of Scoop O Scrub on
Facebook