Anti-Aging Beauty Products by SeenMeem Enterprise
by Sakina Mansoor
(Karachi)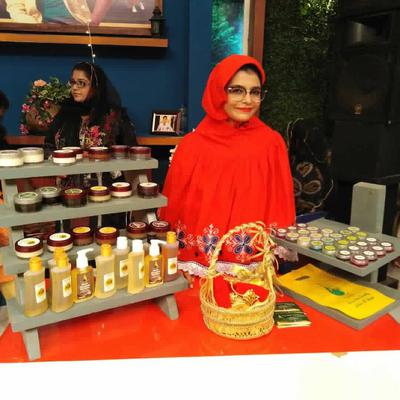 Sakina Mansoor-Owner of SeenMeem
SeenMeem Enterprise offers a wide range of natural and organic body care products that are made from natural and non-alcoholic material for hair and body care, free of chemicals and have no side effects.

Venture: SeenMeem Enterprise
Owner: Sakina Mansoor
Location: Karachi, Pakistan


Anti-Aging Beauty Products by SeenMeem Enterprise - Interview
Q. What are your products or services?
A. We produce natural and non-alcoholic body care products to nourish skin in a natural way without any chemicals.
Our products include health lotions, anti-acne, anti-aging, fairness and glow, hair oils and lip balms. We have lotions for dryness, footcare and even eczema. Body butters for winters with different fragrances. We have a variety of masks which help in daily life issues like acne, anti- aging, open pores, suntan etc. We use all-natural ingredients like oatmeal, bentonite clay, activated charcoal, green tea etc. We have daily facial scrubs which can be used instead of face wash. Our lip balms that are favorite of all which we have in a range of different fragrances and colours. Healthy hair oils to strengthen hair roots and to improve hair fall etc.
Q. What makes you a woman of strength and determination?
A. Our Mission is to maintain our body as natural as ALLAH gave us and created us. I get my strength by trying to achieve this mission. The most important part of my life which gives me moral support and courage is my family specially my husband who had faith and confidence in me that I can do something and achieve great success.
Q. How did you get here and how long have you been in this field?
A. I was very much attached to nature and wanted to serve mankind with a better and healthy product. It has been 4 years since we started in 2015.
Q. What has been your vision and what do you most love about your work?
A. The best part about my products are that I make them all by myself with all my determination and devotion. My vision towards my work is to serve everyone a quality product.
Q. What do you think is your biggest achievement throughout your professional journey?
A. Everyday brings a new achievement. We have appeared in several TV shows and presented in exhibitions at Marriott and at the Defence Authority Creek Club as well as several other popular venues.
Q. What are your current projects and what do you plan on doing in the near future?
A. I am planning for a website to present my products and working on launching it internationally. I am also working on developing high quality packaging.
Q. A word of advice from your experience for women who wish to pursue a career path.
A. A woman is a complete package given by Allah. Best daughter, wife, mother and best entrepreneur too. We can achieve anything how tough it is or how impossible just be determined.
Connect with Seen Meem Enterprise on
Facebook
or on
Instagram