Women of Pakistan blog
Exciting times ahead!!!!...as we add new content & products made in Pakistan by the women of Pakistan...straight to you...no need to enter the email address. Just click the small orange button with "XML/RSS Feed" and add for notifications of updates.
What more....you can translate this website in your language right here!!!
Mar 13, 2018
Eco Tourism Development In Pakistan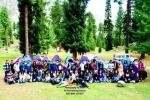 Sundus of Eco Tourism Development in Pakistan Your city: Karachi and Abbottabad What makes you a woman of strength and determination? If you are passionate