Irum Zahra A passionate writer and author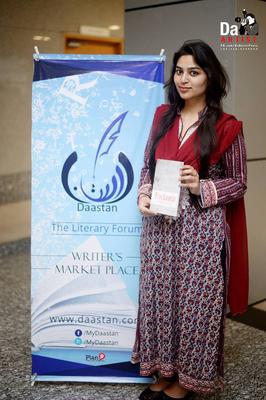 I'm Irum Zahra and I'm from Pakistan. I am both a writer and a publisher. I recently started my own publishing house namely "Beyond Sanity Publishing" and its primary goal is to bring forward Writers from Pakistan and getting them all the services they will possibly need in order to bag some International Recognition. I am offering many services under my publishing company such as cover designing, proof reading, formatting, Reviews from International Best Selling writers, Interviews and event coverage etc.


Writers in Pakistan are not given a platform to work on and I felt the need of such a platform, as a writer. There should be a place for us, the whole, the Pakistani Writers to make our leaps of faith from.
Here are a few corresponding links to me and my beloved book.
Facebook publishing page: https://www.facebook.com/BeyondTheEdgeOfSanity?ref=ts&fref=ts
Book page:
https://www.facebook.com/PsychaoticIrumZahra?ref=ts&fref=ts
Author page:
https://www.facebook.com/IrumZahraOfficial?ref=ts&fref=ts
Blogs:
irumzahra.wordpress.com
irumzahra.blogspot.com
Website: (Under construction)
Goodreads Profile:
https://www.goodreads.com/author/show/10336110.Irum_Zahra
There is a list of challenges, that we as writers in Pakistan face. I have identified and divided these into two categories,
Personal and Social:
Personally, family and friends, your relatives, they don't support you to the extent where you say that you have a steady hand on your back. They learn to support and appreciate gradually. Meeting with people, social interactions they bother your in-laws and you have to justify so many things at so many points, this is de-motivating for most writers, especially women. Thank God they have learnt to support as well, finally.
Then comes the social part.
When you are a simple girl with no political or highly social background, people don't take you seriously. They expect things like this to be done by girls with a strong financial background as well as resources and some solid references.
I have to manage both my home and office and then my own writing while I keep publishing. I just started and I'll have three books Insha Allah, by the end of the year, published under my company's name.
I've spent countless hours gathering resources, meeting with important people and making sure I'm doing the right thing. There are so many people in this country just striving for something good. I want to have my share in that contribution.
I now have publishing resources located in Islamabad, Lahore and Faislabad. I get the samples of work done by all three of the publishing sources and leave the choice to the writer. Though I'm basically operating from Islamabad, the journey hasn't been easy, but hey! Nothing good comes easy. I say if you really want it, find out how you will get it and then get it. Nothing is impossible, dream ON