Alleem Learning Center- Sharjah- UAE (www.alleem.com)
by Alleem Learning Center -Team
(Sharjah-UAE)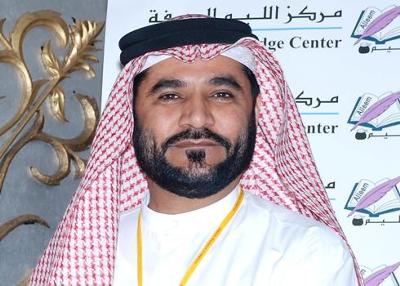 Founder & Chairman
Alleem Learning Center- www.alleem.com


Who we are:
Alleem Learning Center is an umbrella organization; a unique cross-cultural, independent, not-for-profit source of state-of-the art information of business management based in Sharjah-UAE. It was founded in September, 2001 by Dr. Rashid Alleem. It is one of the UAE's most respected centers for cutting-edge thinking, best learning practices, and research on advance business management.
WHY ALLEEM:
• DEVELOP COMMUNICATION AND LEADERSHIP SKILLS, WHICH IN TURN FOSTER SELF-CONFIDENCE AND PERSONAL GROWTH.
• ENHANCE YOUR PERSONAL EFFECTIVENESS AND SELF-DEVELOPMENT.
• LEARN NEW TECHNIQUES TO ENABLE YOU TO INCREASE YOUR EFFICIENCY AND COST EFFECTIVENESS.
• ADD VALUE TO YOUR BUSINESS BY BUILDING EFFECTIVE WORKING RELATIONSHIPS.
• EXPLORE NEW WORKING PRACTICE TO IMPROVE THE QUALITY OF YOUR WORK.
• UTILIZE TIME, PROBLEM SOLVING AND DECISION MAKING MANAGEMENT SKILLS.
• EFFECTIVELY DEVELOP AND PRESENT IDEAS.
• DEVELOP A FLEXIBLE MANAGEMENT STYLE.
• ORGANIZE YOUR WORK AND TIME EFFECTIVELY TO PLAN AND MANAGE PROJECTS.
Alleem knowledge Center
The Alleem Knowledge Center comprises of six clubs which reflect the mission of the center and vision of the founder (Dr. Rashid Alleem). The clubs strive to bring together members from all walks of life exchange ideas and share best practices. The aim is to create an environment of lifelong learning and empower the professionals with knowledge application. The clubs promote augmentation of skills sets to help its members compete and succeed in today's ever expanding business horizon.
Sustainable Development Club
1. SUSTAINABLE DEVELOPMENT CLUB
2. LEADERSHIP CLUB
3. PROFESSIONALS CLUB
4. BOOK CLUB
5. HUMAN RESOURCES (HR) CLUB
6. INFORMATION TECHNOLOGY (IT) CLUB
Our mission:
To provide the latest professional standards, information and tools to those who look forward to becoming successful cutting edge leaders of tomorrow and effectively participate in the never- ending search for excellence.
Our leadership philosophy:
The ability to continuously strive to establish and manage a creative climate of continuous learning in which associates and teams are empowered and self-motivated to build true lasting success in an environment of mutual trust, collaboration and respect.
Cutting edge thinking:
Our program has been designed to enable you to share your questions, goals, challenges and experiences with your peers to help you create and implement breakthroughs on a regular basis.
How we can help you:
Through participation in our Business congress, communication and leadership programs, you have the opportunity to develop communication and leadership skills which in turn foster self-confidence, leadership and personal growth.
Our programs:
Alleem Business Congress (ABC)
Alleem Business congress is a flagship event of Alleem knowledge center(AKC) with four main congresses in a year.
1: Leadership congress
"Leadership is one of the most discussed and debated issues. It means different things to different people in different contexts. There is no single definition of leadership, or one set of personal
qualities or competencies that characterize leaders. It is a fine quality people recognize it when they see it, yet have difficulty describing it exactly." Rashid Al Leem
2: Marketing & Branding congress
"Writing a Marketing Plan is similar to putting together a complicated puzzle. Each piece contains information that makes sense only when you see the finished product.
You must build cutting-edge strategy for your product or service to differentiate your brand in the marketplace by balancing your firm's external opportunities and threats, and its internal strengths and weaknesses. Otherwise, your product is merely another commodity and very easy for consumer to pass by." Rashid Al Leem
3: Project Management congress
"I personally feel that the recent crisis in the financial market is taking the Project Management to a new level. Project management is evolving. The fundamental principles are fairly stable, but the knowledge of how to apply them continues to evolve. Globalization and increased competition are causing increased demand for project management. So, for organizations to survive in this meltdown period they must adopt the nine knowledge areas of project management to enable them to do different things at the right times so the end result is what is wanted. This means knowing what is wanted, what inputs we need to get there, what processes must be performed, and in what order."Rashid Al Leem
4: Sustainable development congress
"Success is not measured by imposing one agenda over another, but by finding solutions that integrate many needs and concerns." Rashid Al Leem
Hard Development Programs- "Personal Growth"
LEADERSHIP
AIM : TO KNOW THE DIFFERENCES AND OVERLAPS OF LEADERSHIP AND MANAGEMENT.
MANAGING SUCCESSFUL PROJECTS
AIM : TO REINFORCE YOUR PROJECT MANAGEMENT SKILLS.
SUCCESSFUL MARKETING PLAN
AIM : TO BUILD THE SKILLS REQUIRE TO DESIGN AND EXECUTE MORE EFFECTIVE MARKETING PLANS.
PEOPLE MANAGEMENT
AIM : TO PROVIDE ADEQUATE COVERAGE OF THE SUBJECT MATTER IN EACH OF THE VITAL AREAS OF HUMAN RESOURCE MANAGEMENT.
FINANCE AND ACCOUNTING FOR THE NON-FINANCIAL EXECUTIVE
AIM : TO COVER THE FUNDAMENTAL PRINCIPLES AND TECHNIQUES OF FINANCIAL MANAGEMENT.
LEADING EDGE MANAGER
AIM : TO GIVE MANAGERS INVALUABLE TIPS FOR TEAMING WITH EMPLOYEES WHILE INSPIRING THEM TO BREAKTHROUGH PERFORMANCE AND RESULTS.
STRATEGIC PLANNING
AIM : TO KNOW WHAT IT TAKES TO ENHANCE A COMPANY'S COMPETITIVE SUPERIORITY, ACHIEVE SUPERIOR PERFORMANCE, AND IMPROVE ITS VALUE.
BRANDING
AIM : TO SHOW COMPANIES HOW TO BUILD THE POWER OF THEIR BRAND.
MAKING TEAMS WORK
AIM : TO BUILD INNOVATIVE, SUCCESSFUL, AND EXCEPTIONAL "WINNING" TEAMS.
Soft Development Programs "Wake Up Calls!"
IF IT'S NOT NOW, WHEN?
AIM : TO HELP PEOPLE MAKE A DIFFERENCE AND FIND THEIR TRUE VOICE.
IF NOT YOU, THEN WHO?
AIM : TO HELP YOU TO BECOME THE PERSON YOU'VE ALWAYS WANTED TO BE.
IF IT'S NOT HERE, THEN WHERE?
AIM : TO ANSWER THE QUESTION : WHAT DO HAPPY PEOPLE DO DIFFERENTLY THAN UNHAPPY PEOPLE?
THE DIFFERENCE BETWEEN ALLEEM "WAKE-UP CALLS" PROGRAMS-SOFT PROGRAMS AND OTHER ALLEEM DEVELOPMENT PROGRAMS-HARD PROGRAMS
IN "HARD PROGRAMS" . . . I WRITE THE CONCLUSION.
IN "SOFT PROGRAMS" . . . THE CONCLUSION IS WRITTEN BY YOU.
HOW YOU CAN HELP US :
VOLUNTEERISM IS THE BACKBONE OF OUR WORK AND THE REASON FOR OUR GROWTH AND SUCCESS. THANKS TO PEOPLE LIKE YOU. BUT THERE IS SO MUCH MORE THAT NEEDS TO BE DONE. IN ORDER TO MAINTAIN OUR EXISTING WORK AND EXPAND TO MEET THE EVER-INCREASING NEEDS OF TRAINING AND DEVELOPMENT WE REQUEST YOUR HELP.
If you are interested in any of these programs, details on when and where they are offered contact us. Also for marketing partnership opportunities, please contact :
Alleem Knowledge center:
Tel: 06-5689770, Fax: 065696770
P. O. Box: 1610, Sharjah - U.A.E.
Email: alleem@alleem.com
www.alleem.com